Author: Dima Titov
Snapchat—a new generation of social networking for youth—uses augmented reality (AR). Snapchat's popularity has spread throughout the world exceeding 1 billion global users.
So what is Snapchat and how to use it?
Snapchat is an awesome social network innovation: its built-in privacy doesn't let just anyone know what you've been doing and what photos you've been exchanging with your friends. Snapchat has a killer feature that lets you have fun and still protect your privacy. How? It lets you briefly show photos with elements of augmented reality to friends. You may show your photos for only a few seconds, but not save them. This prevents them from spreading over the Internet. Such photo is being kept on the website for only 24 hours and then disappears. Augmented reality can make your day. You can share a post or a photo with your friends, discuss it, have fun adding special effects and so on. Sometimes the quality of a Snapchat image might diminish with several added filters. The image blurs. But the main point—having fun by changing the original photo using cool effects—still exists. And when time is up, it all disappears.
How to use Snapchat?
Snapchat is quite easy to use—requires only a few steps to get going:
download the app

sign up and enter your nickname

add your friends or find new ones

click on "Photo" on the menu, press on the circle to take a photo, or hold it down a little while to record a video

choose how long your "work of art" will be available

press on the arrow in the lower right corner to send a photo/video
You can also add text on your photos. Switch to the front camera and hold your finger down on the face on the screen: now you can apply different funny masks.
Project in numbers
Statistics show that as of March 2017, Snapchat users created over 2.5 billion Snaps every day. The average number of shared photos is around 9,000 photos a second! The company's estimated worth: 10-20 billion dollars.
Profit
There are a lot of apps for editing photos. Only Snapchat uses augmented reality. And these augmented reality filters—Snapchat's awesome killer feature—that brings the company enormous profits. The popularity of these specific selfie filters in Snapchat is included in the company's statistics. Every day, different filters are applied to 10 million photos. In general, the app has about 100 million active daily users. One of Snapchat's way of monetizing the app: paid filters. In 2015, these filters bring in 50 million dollars in profit.
Many companies also buy brand filters for selfies. Everyday revenue varies between $300,000 and $700,000. This sales strategy brings Snapchat more financial benefits than working with end users. Lots of big brands have already become clients of the Snapchat company. For example, a filter bought by Taco Bell was viewed 4 million times. Read more about augmented reality advertising here.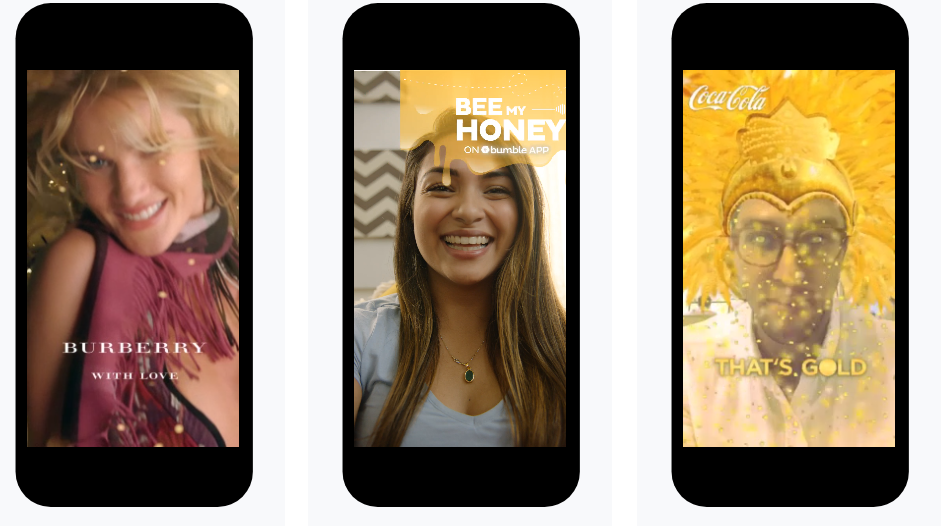 As reported by the New York Times, users spend an average of 24 seconds using a particular filter. This makes Snapchat a powerful advertising tool equal to TV ads. Users spend 24 seconds viewing a company brand on their smartphone screens. In the case of Taco Bell–or any other brand using Snapchat–multiply this by 4 million times a day using current numbers. Now add the number of times they share this branded photo with their friends. (Math anyone?) The obvious conclusion is that cool filters with a logo have become the new way to vastly expand a brand's audience.
Snapchat changes the way people perceive augmented reality. And by introducing new augmented reality marketing, it changed the marketing rules.








FEATURED IMAGE: Shutterstock, Snapchat
Bob
This is the most successful application that using technology of Augmented Reality . and it is still popular for a long time.
logan
love this app. SnapChat created very cool with often updated AR effects.