Author: Dima Titov
Virtual reality in entertainment is an immense world that is still evolving
While diving into VR, users can find a whole treasure trove of entertaining activities without any barriers. But VR gadgets are pricey, so still not very popular in the home entertainment space. However, companies involved in the entertainment business readily purchase necessary VR equipment because of huge interest among clients. So it is no surprise various entertainment platforms apply Virtual World entertainment at its best.
For instance, such activities are provided by cinemas equipped with respective VR facilities, online gambling portals with VR games (best real-money casinos online consider implementation of VR very promising and perspective), plus computer games, of course.
VR Entertainment Around Us
VR Cinemas
Glasses are the spring board of VR creation: to immerse into the imaginary unreal worlds, you need visualization first and foremost.
Glasses are quite expensive, so there is little chance they will follow in the footsteps of smartphones and spread like wildfire any time soon. Besides, the considerable weight of VR glasses causes faster fatigue when wearing them during a game or watching a movie.
Apart from visual impressions, virtual entertainment has other essential aspects: good sound, tactile perception, controlling temperature or position in space.
The easiest way to ensure sound quality is to use standard stereo headphones. All other mentioned feelings and perceptions are provided by specific motion armchairs that vibrate, move, tip, and get hot and cold.
Modern cinemas purchase additional equipment to create various scents. It's not an easy task because the scent must come and go according to a plan and be replaced by another one at exactly the right moment.
The most expensive facilities allowing users to dive into a fictional fantasy world are used in cinemas; for instance, individual armchairs with extra gear, glasses, helmet or tools for aroma injections. Sometimes they add a water pulverizer resembling splashes or a fan simulating wind at a required temperature and speed.
Online casinos and VR
Online gambling is private entertainment. People love playing alone at home using computers, laptops, or smartphones. Developers understand this and use desktop browsers and specific apps to implement VR in entertainment games.
The difference is that VR cinema strives to deliver a full sense of an unreal world, while online casinos try to bring the player closer to the real-world casino atmosphere.
Times have changed. Before the only available casino fun were slots—now all but forgotten. A step closer to an immersive VR experience was an opportunity for gambling fans to play a life-like game. Now it is possible to put on special glasses and seem present at the dealer's table.
Application of VR in entertainment industry
No doubt, computer games are the most genuine type of VR apps. Users like VR games for their ultimate realism and immersion none of the traditional computer games could ever provide. Does the computer-games industry act as the lifeblood for finding new opportunities in VR app development? Absolutely.
Let's take a look at some examples of VR in entertainment and get familiar with some of the top VR games.  
1 Titans of space
An educational VR game for children. Its main goal is to explore the Universe while flying around the solar system and between planets and satellites. A good choice to make children familiar with astronomy.
2 SpaceTunnel
VR game based on users' reaction speed. The most dynamic and full-of-fun game offering single and multiplayer mode to compete with friends in collecting points. The game goal is to fly in space and evade obstacles in outer space.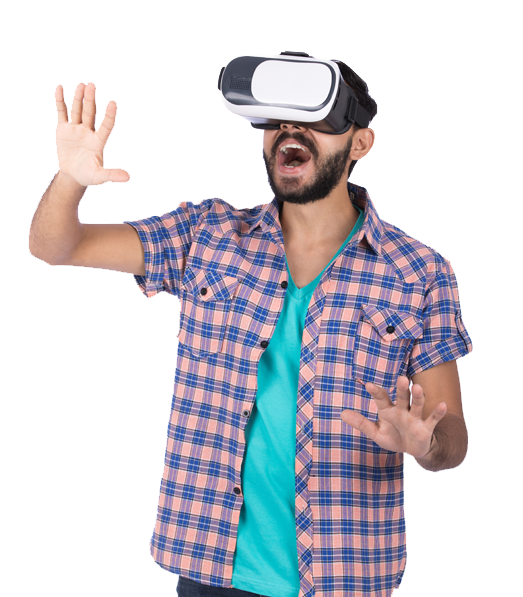 For Entertainment
VR apps
Contact our VR development team to discuss your project
3 Star Conflict
This simulator generates extensive star battles on spaceships. This game is a good match for those who like to play the role as a captain of an aircraft.
4 Trackmania
In a nutshell, this game is reckless racing without physical laws. This simulator will definitely attract real daredevils who are speed and adrenaline addicts.
5 ZVR Apocalypse
Pretty good run-and-shoot game. As you can see from its name, the game is a zombie apocalypse game where players need to survive while fighting off hungry dead men.
Ways to estimate costs of making VR entertainment apps
Talking about virtual reality applications in entertainment industry, we cannot omit the crucial question of costs required to create a decent gaming product.
As you know, "the devil is in the details". The more complex the future app is and the more features it has, the more time it requires to develop, test, and launch. Timeline and costs can vary from 1 month up to several years. So, if you plan an astonishing VR app, consider the features and complexity of your app idea and make a comprehensive list. It will help to properly assess the time and resources required for implementation. If you struggle to do it on your own, let a team of professionals help you make a realistic estimate.
For instance, a simple Crossy Chicken-like  VR game where users need to avoid certain objects or obstacles, overcome barriers, etc., can be built within a month by one developer plus QA and project management (check out what VR/AR apps we can do for you within one month).
At the same time, complex VR applications, e.g., multiplayer RPGs, can take several months or even years while involving a large team of designers, developers, QAs, etc., to the project where teams are occupied with one part of a project.
Last but not least, in determining the app costs: do not opt for cheap. True expertise costs money. If you want to hire a reliable AR development team, avoid choosing the cheapest offer on the market. And be ready if they might say 'no' to some of your ideas based on sound reasons they can clearly explain to you. When a dev team says 'yes' to everything, they are likely not to keep any of their promises and leave you in the middle of the road with half-baked software: 'yes' often just means "sign on the dotted line and send me the money."
There is little doubt that VR apps are forging a path into the future. If you have a great idea that keeps you awake at night, contact us. Let's talk. We are always honest about feasibility, timeline and cost.