Author: Arina Golosovskaya
VR apps are making themselves comfortable in our personal lives. Soon, children of all ages will include them on their birthday and holiday lists.
Parents! Before you allow your children to use virtual reality apps for kids, check the age restrictions for each game. This is crucial. The age-level restriction depends on each technical gadget. Some have age 12+ restrictions. Others strongly recommend children not use VR devices at all.
At the very least, children should be supervised by parents if they play virtual games.
Nevertheless, Virtual Reality app development for kids is a big booming business.
Best VR apps for kids according to gaming experts:
3 Google's Expeditions
Initially this app was solely used to provide Virtual Reality for kids in some US schools. Now everybody can download it for free from the Google Play Store. Children get to see many interesting places on Earth: Continents—e.g., North and South America, Africa, Australia; cities and landmarks—e.g., London, Buckingham Palace, Paris, Louvre Museum, New York, Statue of Liberty, Athens, Parthenon—perhaps even the Seven Wonders of the World.
The Expeditions app is a part of Google for Education program.
5 Assetto Corsa
A very popular simulator belonging to the older-children category: VR racing games for older children (for adults, too). It is known for its intuitive physics and thrilling visualization. If you like attractive cars, high speed, and breathtaking, realistic races, this app is for you.
Users can play Assetto Corsa via Oculus Rift coupled to different gear, from gamepads to steering wheels. The latter is, of course, preferable.
1 Jurassic VR
Made by Rabbit Mountain, a studio specializing in VR games. This app lets users wander amongst dinosaurs–and kids can approach them without fear.
It looks and feels like going on a Safari in a relict evergreen forest. Children can climb aboard a vehicle and observe different dinosaurs "in situ", from large creatures, such as T-Rex, down to much smaller species.
The app works well on Google Cardboards. This means no expensive equipment needed to launch the app.
1 BBC Earth: Life in VR
BBC hardly needs an introduction. Now BBC has mastered Virtual Reality for kids winning the Google Play Award for Best VR Experience in 2018. The app is astonishing in its details. It offers users an opportunity to discover underwater life along the Californian Coast. Users learn about sea world inhabitants of all sizes, from plankton to sea otters and squids to sharks and whales.
The app works on Google Daydream. It is also optimized for Lenovo Mirage Solo.
4 The Diner Duo VR a nice VR PC game for children
The Diner Duo VR is one of the best VR games for kids to teach them basics of the VR world.
Players become chefs who must satisfy their customers within limited time constraints. A local multiplayer mode allows playing with friends and competing with them in exciting cook-off battles.
Things get harder with every new level as the number of clients increases adding chaos into the restaurant. Still, the game provides much fun for both new and experienced players.
The game has been optimized for different kinds of VR hardware. It works equally well on Oculus Rift, PlayStation, and other headsets.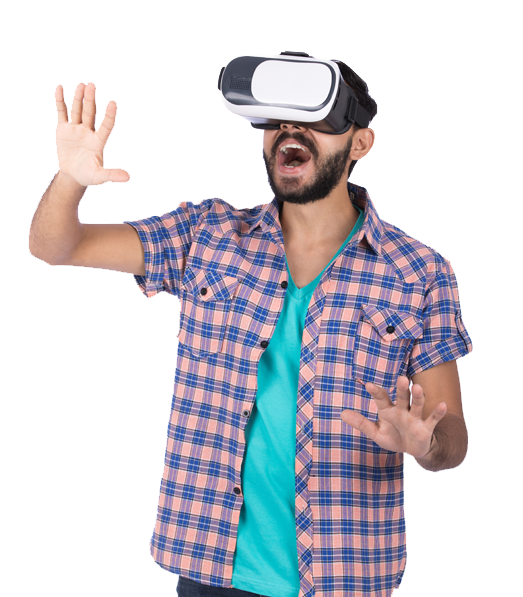 For Kids
VR apps
Contact our VR development team to discuss your project
1 I Expect You to Die
This is an award-winning app with a funereal title and fun game play. In reality—or more precisely—in Virtual Reality, the app encourages teenagers to become world-class secret agents to fight Zoraxis, an evil corporation.
The app provides a series of quests. Users need both quick reaction and thinking to complete missions and unblock awards.
The app works on all major platforms: PlayStation VR, Oculus Rift, HTC Vive, and Microsoft Mixed Reality.
1 InMind
Initially, InMind was aimed to test the limits of Virtual Reality technologies. But the project quickly outgrew its original idea. Now it is probably one of the best scientific VR games for kids designed to illustrate how the human brain functions. App users feel like an operator traveling on a cellular level in a bathyscaphe through the brain searching for neural disorders and sees how neurons work.
The app is free to play. It is available through all major app stores. It also works on Samsung Gear VR.
1 Tara's Locket
VR opens wide many opportunities to narrate stories for children in a completely new way. Tara's Story has been designed as a VR picture book to let children experience the world of a little girl, Tara, who lives with her family in Ireland.
The app has simple controls to progress at a steady pace. Children can learn and learn to read as long as the story continues. Happily, at the end of the adventure, Tara's family is safely back together.
1 Fantastic Contraption
This app started as a building game in 2008. It grew to a virtual world for kids and their parents. Everyone can awaken their imagination designing fancy machines or creating strange but still funny animals. When the "creation" is ready, users can stream the result to friends, interact with it, and see if it is capable to reach the goal on the other side of the island.
Fantastic Contraption was originally designed for HTC Vive. It is now also available for Oculus Touch and PlayStation VR.
Is VR really safe for kids?
No. Maybe. Yes—in small doses and under adult supervision.
Several years ago, when US scientists conducted studies on laboratory rats, they discovered completely different brain-neuron behavior when in the virtual than in the real world. Most of the neurons were closed in the virtual reality. The significance of this fact is not yet clear. Hence, scientists need to carry out additional research for assessment of impact in long-term VR use.
When young, the brain is very elastic and malleable. A long-lasting impact with improperly assembled devices could possibly be harmful to a child.
Also, children cannot grasp how to ease visual tension they might feel. They don't have the mental capacity to know when to remove a gadget the moment they feel uncomfortable wearing it.
But it doesn't necessarily mean that VR is dangerous for children or won't be safe in the future.
Regarding VR safety, a lot depends on the type of gadget used, the chosen content, amount of time spent in VR plus stress and tension—the physical, emotional, and psychological impact on each, individual child.
The impact of VR on children's minds raises big concerns. Young children can barely differentiate a virtual world from fantasy and fiction. This is precisely why children should not spend much time with VR headsets.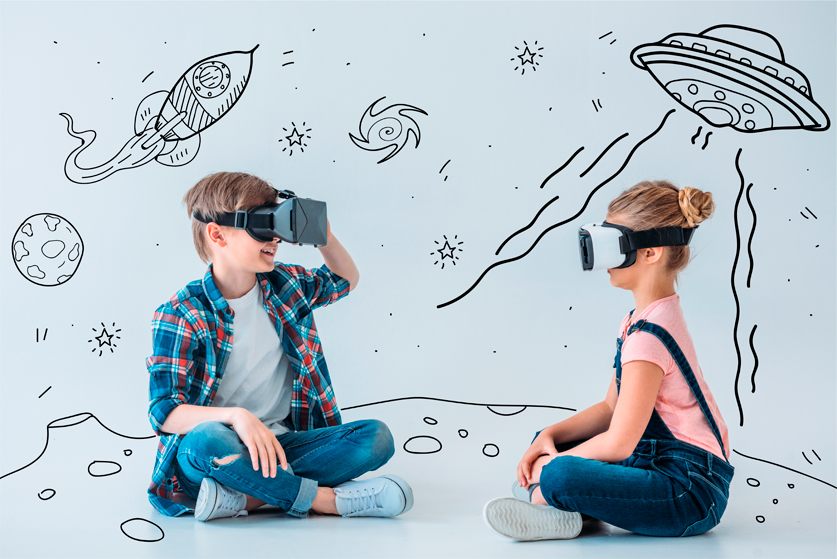 Considering no specific research to date has been done on VR impact on children, insufficient input data about safety of modern VR technologies prevent assessing the level of influence on children's health.
Another problem is the probable impact of VR technologies on children's sight abilities. However, US ophthalmologists express confidence that there is no evidence on irreversible eye damage caused by extensive screen watching.
Apparently, it is very difficult to conduct proper research with children as participants. On an upbeat note, sometimes VR users get headaches or eye fatigue. Scientists believe that such side effects are predominantly experienced by people who already have problems with eye movement and focusing. Hence, VR headsets can help diagnose sight issues. This could be especially important for children. The sooner a problem is discovered, the more efficiently an eye specialist can address this issue.
Scientists and VR headset manufacturers have laid responsibility of children using VR technologies at the feet of their parents. Responsibility rests on the parents to decide what is useful and what is harmful for their children's physical, mental, and emotional wellbeing.
With few exceptions, when used in reasonable limits, VR will not cause undesirable consequences. VR times should be strictly measured out and adhered to, as per individual limitations.
Thus, if the above-mentioned suitable precautions are taken, let your children occasionally experience the magical world of VR technologies.
Note of caution to parents: if your child is young, either sit with them or be present in the room when they are wearing VR headgear.
Never let your child experience a VR app unless you have tried it first. You must know what they are seeing and can imagine what they are experiencing.
In conclusion. Virtual Reality apps for kids suit a wide range of activities: learning complex concepts, playing fun games, discovering exotic animals and distant locations, and more. Some people might still consider Virtual Reality games for kids as harmful. It does provide more benefits than harm when consumed moderately and under adult supervision.
Kumar
Hi Arina, Thanks for the post, great listing as usual. However, I would be happy to hear your specific position on Virtual Reality for kids: do children need VR apps or should VR apps be prohibited? Thank you. Best, Kumar.

Arina Golosovskaya
Hi Kumar, Thank you for your feedback, much appreciated.This is a highly interesting question. You know I would compare the situation with VR apps for kids with chocolate. It is very tasty so that adults love it too (by the way, adults love VR games). Also, both chocolate and VR apps can be a good stimulus for children to behave well and learn their lessons. However, one should not eat too much chocolate: chocolate ruins the teeth and makes one sick. The same does for VR world.This is exactly why children should be allowed to discover VR world. But, it should be done in small portions and under adults' supervision. Hope I've made my point.Best, Arina.
Kumar
Arina, Thanks, absolutely clear. What a nice comparison. Too much chocolate and Virtual Reality can make one feel sick. It is even more dangerous to mix them, haha. I couldn't have made this point better.Waiting for you new posts and updates on social networks. Best, Kumar.
Alicia
Hi Arina, It looks like you have gathered in this post apps designed for different platforms. Which platform do you think will be the best for a VR app for kids? Alicia.

Arina Golosovskaya
Hi Alicia, Our technical lead says every time there is no such thing as the best platform, sorry. It depends on a range of requirements. I would suggest Google cardboard for experiments in VR because in this case users need only their smartphones and a cheap frame made of hard paper. Everyone can do it at home and enjoy Virtual Reality. However, if the app owner plans something bigger, he or she should first study what the target audience uses. It can be Xbox, PlayStation or PC. Btw, PC is suited for highest performance. This is why when performance is the killer feature, a PC should be the No.1 option.So, I would say, it depends on the goal of the app, the target audience, and technical requirements.Best, Arina.
Kumar
Thank you, Arina. Noted. Can you provide any additional info on the topic VR for kids?