Author: Arina Golosovskaya
Not long ago, few people had heard of Augmented Reality. Today, however, we live in an almost magical world of technological wonders totally inconceivable to previous generations, and Augmented Reality for kids plays an increasingly important role in that world. Thanks in large part to the proliferation of smartphones, tablets and other digital devices that children start using at an early age, special apps AR for kids are changing the way they learn and play. By effectively combining education with entertainment, learning becomes an enjoyable activity. Toys, puzzles, coloring books, games, textbooks – even articles of clothing embedded with AR technology – all spring to life through Augmented Reality applications that can hold the attention of eager young minds for hours on end.
Below we discuss how the magic of AR apps becomes the new reality.
Technical side of Augmented Reality for Kids
In simple terms, Augmented Reality enhances real world surroundings by overlaying computer generated digital content such as videos, animations, sounds and graphics. Here's how the four basic types of AR for kids work:
Marker-Based AR. Sometimes called image recognition technology, Marker Based AR involves scanning a physical object such as printed QR (quick response) code with a camera, which calculates its orientation to the viewer and marks the position where the digital content will be displayed.
Markerless AR. Also known as position or location based AR, Markerless AR combines a GPS, gyroscope, compass and accelerometer to pinpoint the user's physical location, which determines where the AR content will be displayed. Markerless AR examples include maps, pop-up advertising and driving directions.
Projection Based AR. Projection based AR involves overlaying synthetic light onto physical surfaces to produce interactive holograms. The ghostlike animations seen in Disneyland's popular Haunted Mansion attraction are examples of projection based AR.
Superimposed AR. Superimposed AR partially replaces the actual appearance of a physical space with an augmented image. An example of superimposed AR is the app that lets users scan a piece of furniture from an IKEA catalog to see how it will look in the home before committing to a purchase.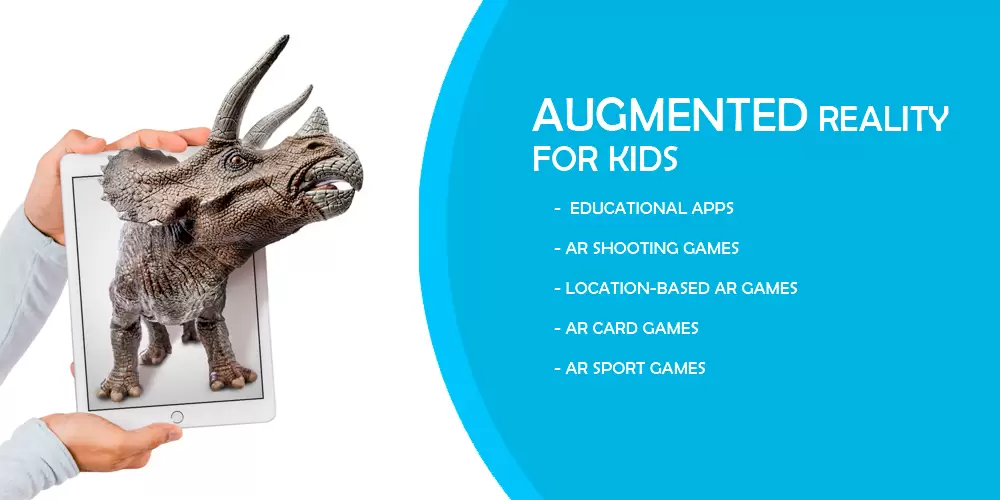 Using AR apps for Kids: Education and Entertainment
Augmented Reality has proven to be an effective means of educating and entertaining young people of all ages and grade levels, from toddlers to graduate students. Properly applied, AR has the ability to transform what might otherwise be a boring day at school into an educational adventure. The virtually unlimited educational opportunities of AR apps for kids can also benefit the ailing publishing industry. Potential new revenue sources for publishers include marketing AR textbooks to educational institutions, charging users to download apps, assessing subscription fees and generating income from in-app advertising and promotions.
AR Educational apps
AR for Teaching Younger Kids. Teaching preschool and elementary school children can be challenging due to the relatively short attention span of young minds. Incorporating AR into the learning process, however, can help enliven and improve the situation. As an example, interactive, attention-grabbing AR textbooks and flash cards can be used to teach the alphabet by digitally displaying an animal or object whose name starts with a particular letter. Using AR to teach the basics of mathematics might include showing a quantity of 3D objects associated with a specific number.
Older Kids, High School and University Level Students. Teaching with AR isn't just for toddlers, but also applies to older kids. Today's educators understand that interaction and creativity enhance the learning process, and Augmented Reality provides both. AR can transform the classroom into an environment where historical characters can spring to life from the pages of a textbook. Through AR, students can tour historical sites, study detailed aspects of the human anatomy just as if in a physiology lab or float with astronauts aboard the International Space Station. The possibilities are limited only by the imagination of AR developers and publishers.
Inspirational Augmented Reality Toys and Games
There's a huge assortment of entertaining and exciting Augmented Reality shooting games for kids of all ages and skill levels. Here are highlights of three favorites:
1 AR Master Shooter
AR Master Shooter brings players a virtual shooting experience set against a real world background. Available for both Android and iOS devices, the player starts by downloading and printing a marker from the AR Master Shooter website and places it on a flat surface. To play, he or she launches the Master Shooter app, views the marker through the mobile device and begins shooting. To attain Master Shooter status, the player must successfully complete a series of increasingly difficult skill levels.
2 ARGunGame
ARGunGame is an interactive shooting game that uses special AR "guns", which are purchased separately. The player attaches an iOS or Android digital device with the ARGunGame app installed to the gun and begins shooting at realistic AR targets. ARGunGame is intended to help children experience and understand AR technology while at the same time offering them a fun play experience.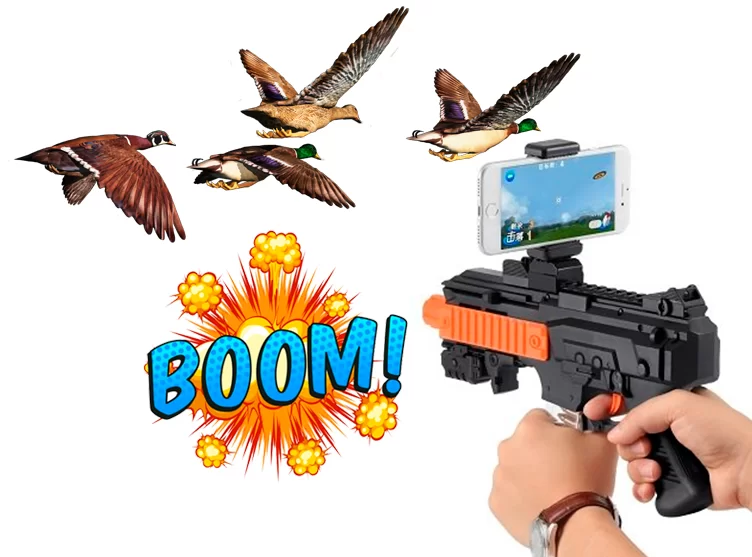 3 Real Strike
Real Strike is an AR game based upon a pool that's been polluted with nuclear waste by a group of dangerous "pests". After downloading and scanning the marker, the player attempts to terminate as many pests as possible within 80 seconds. Real Strike's AR armory includes a selection of 25 handguns, long guns and submachine guns, as well as simulated thermo and night vision scopes. Available for both iOS and Android devices, Real Strike lets participants also make video recordings of their playing experience.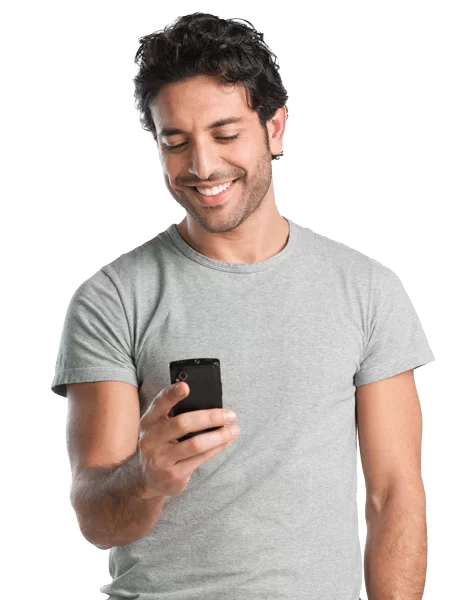 Create Your
AR apps
Contact our AR development team to discuss your project
# Location-Based AR Games
1 GEO AR Games
GEO AR Games' Sharks in the Park is designed to get kids off the couch and take their devices outdoors into the fresh air and sunshine. Combining the digital and real worlds, the game needs a large, open outside area to be played. Immersed in an underwater environment, the player navigates beneath the sea by walking around in the real world. Using a mobile device as a window to the underwater world, the goal is to approach and collect schools of fish without spooking them.
2 Pokémon GO
Pokémon GO captivated the world in 2016. Downloaded more than 750 million times, it's a location-based AR game where the player uses a digital device to detect and capture characters called Pokémon. The player creates a custom avatar and walks about in the physical world in pursuit of Pokémon.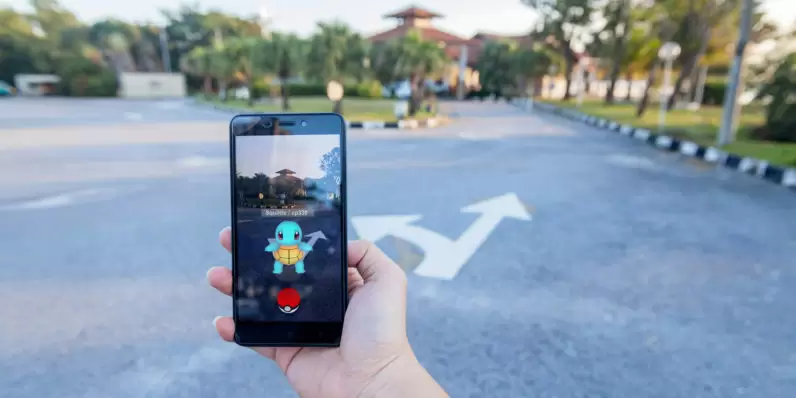 3 Clandestine: Anomaly
Clandestine: Anomaly is another location-based game that uses both GPS and Augmented Reality to overlay digital content onto the immediately surrounding real world environment. The player and his or her city are at the center of a life-or-death struggle with aliens for control of the earth. Walking about in the real world, players attempt to locate and overcome intergalactic enemies by calling in airstrikes.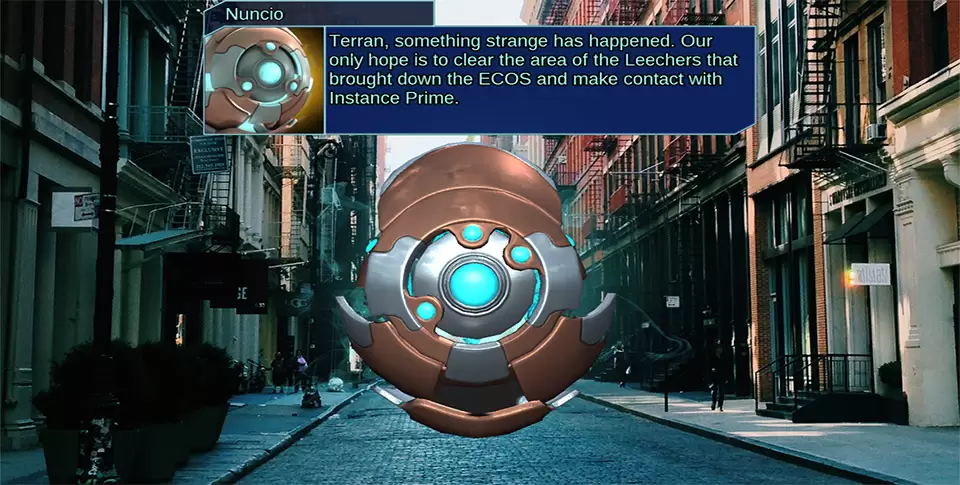 AR card games will inevitably change the way traditional tabletop games are played. Here are three examples of Augmented Reality card games sure to entertain and educate:

1 Nintendo 3DS
Nintendo 3DS is a system for playing a variety of entertaining and educational games using AR. Each system package comes with six AR cards ranging in size from 1 to 8 gigabytes. When the built-in AR Games™ application is launched, a card is placed on a flat surface and viewed through the Nintendo 3DS' camera, which reveals the game content and characters. A sizeable assortment of additional game cards can be purchased separately and downloaded from Nintendo.
2 Genesis
Genesis is a skill based Augmented Reality Trading Card Game that combines traditional TCGs with real-time simulated battles. Funded by Kickstarter, the game lets players collect heroes from across space and time, who then do battle with evil forces to save the world. Players are rewarded with additional trading cards that can be used for future games. Available for both iOS and Android devices, Genesis can be played in single or multiple-gamer modes.

There's a huge assortment of entertaining and exciting Augmented Reality shooting games for kids of all ages and skill levels. Here are highlights of three favorites:
1 ARBasketball
ARBasketball is an Augmented Reality game from Augmented Pixels that's available free of charge from the App Store and Google Play. Using a smartphone's camera, the game allows would-be NBA All Stars to shoot hoops any time and any place there's a flat surface – just print Augmented Pixels' marker on a small piece of paper, point the phone at the marker and a hoop will appear. Points are scored by swiping the screen to shoot the ball toward the hoop.
2 AR Pool Billiards
AR Pool Billiards lets users with an iPhone or iPad compatible with Apple's ARKit platform play realistic 8 ball or 9 ball pool. Played either alone or with a friend, the table can be adjusted in scale to appear as if the game were being played on an actual pool table, or can be resized for smaller real world backgrounds. The player's position relative to the ball determines the angle at which the cue ball hits the target. Two on-screen controls determine where and how hard the cue ball hits the ball the player is attempting to sink.
3 ARSoccer
ARSoccer is a game for iOS devices that once the app is launched and the camera is pointed toward the ground. The player uses his or her feet to kick the ball out of the superimposed starting circle. Kicking within the camera's field, the player can either simply practice juggling the ball with his or her feet or play in Arcade mode, where the idea is to keep the ball from hitting the ground for as long as possible. The app displays both the length of time the ball is kept in the air and the number of hits scored.

Augmented Reality Toys for Kids is the Future of the Industry
Exciting new toys using AR technology are increasingly available for kids of all ages, and the trend is expected to continue indefinitely. Iconic brands including Disney and Sesame Street have successfully used AR to incorporate some of their better-known characters into ar toys, games and books. Mattel has announced plans to release an AR app that will send 3D virtual Hot Wheels cars racing around a track. Not to be outdone, LEGO recently introduced their free Augmented Reality LEGO AR-Studio™ app that mixes AR technology with physical LEGO models.
Hasbro, the world's largest toy manufacturer, is another example of the growing use of AR within the toy industry. Their AR game Iron Man, which is based on the Marvel Comics' superhero was introduced at this year's Toy Fair in New York City. The player puts on Iron Man's distinctive red helmet and gauntlet, randomly places three AR markers around the room, and is suddenly surrounded by and must fend off archvillain Thanos, another marvel character, and his army.
These are just a few examples of AR's influence on the toy industry. Look for increasingly more educational and entertaining Augmented Reality toys and games to become available as popularity and demand continue to grow.