Author: Arina Golosovskaya
Looking for the best ways to visually present your products? Simple. An Augmented Reality catalog app—your direct marketing channel delivering information to your audience at the speed of light.
Do you want to always be on your customers' radar? Do you want them to be aware of all your products—new and novel?
Do you want them to hold your products in their hands within a millisecond of expressed interest? Do not make your customers wait for delayed deliveries or demand they set aside time to look for your product(s) in stores.
Give them what they want—immediately. Right here. Right now. Not a second later. But how? It's simple. Hire Augmented Reality developers to make a perfect app from your idea.
But here comes the kicker: how do you find rock star Augmented Reality app developers? To help you, we have prepared a crucial three-point checklist to help you. Our checklist will help you spend less time searching for and hiring Augmented Reality developers best suited for you and your project. Plus: click the link at the end of the post to get your checklist to help you choose the best developers for you.
1 Searching for Augmented Reality developers: onshore, nearshore, or offshore?
What's most important for you when hiring Augmented Reality developers? Cost or sharing similar cultural values and work practices?
Augmented Reality developers for hire are available from all around the world: USA, Canada, Latin America, EU, Eastern Europe, South-Eastern Asia. Those regions vary greatly on preferred technologies and hourly rates, but even more important for you, they vary on cultural diversity.
Which destination is best suited to your needs? Check out these differences below before making up your mind:

Onshore development means you hire Augmented Reality developers in the same country where your office is located. You can count on highly skilled engineers. You both live in the same time zone and share the same culture and work ethics. However, startups face two problems when looking for an onshore team: high hourly rates and drastic shortage of domestic talent pool (many are either recruited by tech giants like Facebook or Amazon or decide to develop their own product).
This is why many new startups look for help from "not-onshore" vendors to find a balance between budget and technical complexity: nearshore or offshore.

With nearshore software development, the development center is situated in a neighboring country sharing the same or similar time zones with the client: Latin America is a nearshore outsourcing destination for the USA; Eastern European companies are nearshore partners for Western European firms.
Benefits from nearshore outsourcing development include:
lower development prices due to lower costs of living
convenient flight routes when an onsite presence is needed
cooperation within the same or similar business hours
– discuss urgent issues when needed
– increased likelihood of working with a team sharing the same mindset and values

With offshore software outsourcing, you are hiring Augmented Reality developers in distant countries located in different time zones—and with different mindsets and cultural values.
Offshore destinations, such as India and South-Eastern Asia, are best suited for startups with a constraint budget: this region provides a big market and the lowest prices.
However, cheap prices can come at a cost: tradeoffs.
Distance

: you will need to arrange long-distance travel to reach your development team, often spending hours at airports waiting for connection flights = time lost.

Disparate time zones

: you need to always plan ahead as your team cannot react immediately in the middle of their night on the other side of the globe.

Differing business practices

: employees of cheap companies might be unaware of best business practices, such as e.g., adherence to deadlines or proactive position in problem refinement.
Cultural differences: culture is more important that you might realize. It impacts working style, answers, accountability, and "trustworthiness". Be aware: ensure you understand the possible dissimilarities between your way of thinking and theirs.
News flash! Eastern European Augmented Reality app developers are culturally similar to Western European and North American countries and offer similar lower prices as their culturally different competitors.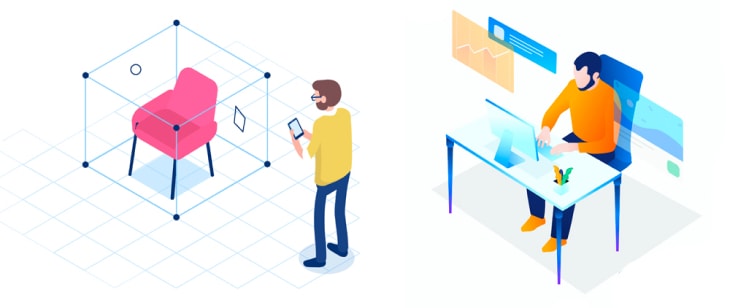 2 Getting the right dedicated Augmented Reality developers: industry focus, flexibility, technological stack
When you check out a company's website, you can see how relevant its offer is to your project.
What is the team's expertise areas? Are they Augmented Reality game developers or do they specialize in industry solutions for wearables?
Relevant background boosts development and makes it possible to escape common pitfalls.
What is the team's established workflow and flexibility? Is it like yours? This is crucial to working well together and keeping your stress level low.
– Is the team flexible? Can they work with changing requirements?
– Are they agile and adaptable?
You can see it from published case studies. Perhaps they seem to fit your criteria, but you do not see a project similar to yours. Write or call them and ask whether or not they could handle your project.
What technological path do they offer?
The choice of a right technological stack ensures maintainability and scalability after your AR app becomes successful. It is normal to completely change the stack for a prototype. An MVP should be redeveloped when it does not meet users' expectations. Flexible architecture and relevant technologies save both time and resources needed to pivot without pain and lower your chances of getting stuck halfway to success.
3 Following industry news and trends to stay ahead of competitors
The most invigorating characteristic about Augmented Reality technology is that it keeps evolving in all three directions: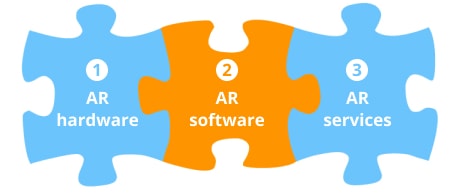 These remain favorable arenas for AR startup ideas.
1. AR hardware. There are special smartphone cameras and AR glasses improve AR experience. Two examples:
Magic Leap has finally shown us its gear; it's not perfect, but it's a start.
Microsoft HoloLens is good AR hardware, but expensive.
However, developers already test different hardware making prototypes for interested clients. Some of those experiments have already turned into successful use cases.
2. AR software. Augmented Reality engines keep being improved, providing application developers with features they once could only dream of. The door to innovation is wide open towards extended reality.
3. AR services. New Augmented Reality-based services emerge and compete for audiences. We expect to see both online and offline businesses vigorously apply Augmented Reality for visualization of their offers. Everyone who has a smartphone can easily make a showroom at home. Those who offer an AR experience similar to physical showroom experience will win.
Is your prospective development team ready for it?
The point? You follow AR trends and you expect your Augmented Reality application developers to be doing the same—and to be one step ahead of your competitors.
Use the criteria above to hire the right Augmented Reality developers for your project to range them by importance based on your business needs. To choose the most suitable team, give each team points for the criteria on your list.
To find a reliable Augmented Reality development team, focus on relevant parameters:
price vs. cultural similarity
industry expertise and background
preferred management practices
AR trend awareness
Do your homework upfront and reap the rewards with a successful AR app.
Better yet, save time: get in touch with our project managers and ask them for a plan for your project.
Let us bring your AR app to life and open doors to your success.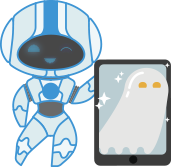 Bonus! Template checklist with interview questions plus pre-/post-interview activities
It is hard—if even possible—for an AR startup to keep constant focus on myriad wide-ranging details.
That is why we have prepared a checklist for you to help you before, during, and after the interview. Just click onto the link below and download a free pdf copy of the checklist.
Just click on the template below:

Checklist for hiring an Augmented Reality development team + List of app requirements

By submitting your email, you accept Terms and Conditions. Please refer to Privacy Policy for more details.