Author: Arina Golosovskaya
Looking for the best ways to visually present your products? Simple. An Augmented Reality catalog app—your direct marketing channel that delivers information to your audience at the speed of light.
Do you want to always be on your customers' radar, to have them  be aware of all your products—new and novel? Do you want them to be able to hold your products in their hands within a millisecond of expressed interest? Do not make them wait for delayed deliveries or demand they set aside time to look for it in a store. Let them have it immediately. Right here. Right now. Not a second later.
But here comes the kicker: how can you find rock star Augmented Reality app developers?
To help you, we have prepared a crucial three-point checklist to help your shorten time spent searching for and hiring Augmented Reality developers best suited to your project.
Searching for Augmented Reality developers: onshore, nearshore, or offshore?
Augmented Reality developers for hire are available from all around the world: USA, EU, Canada, Latin America, Eastern Europe, South-Eastern Asia. Those regions vary greatly on preferred technologies and hourly rates but even more important for you, they vary on cultural diversity.
Choose your top priorities: cost or sharing similar cultural values and practices. When opting for the first, be aware you understand the possible disparity between your way of thinking and theirs. Otherwise, the result is often half-baked software with zero chance of improvement.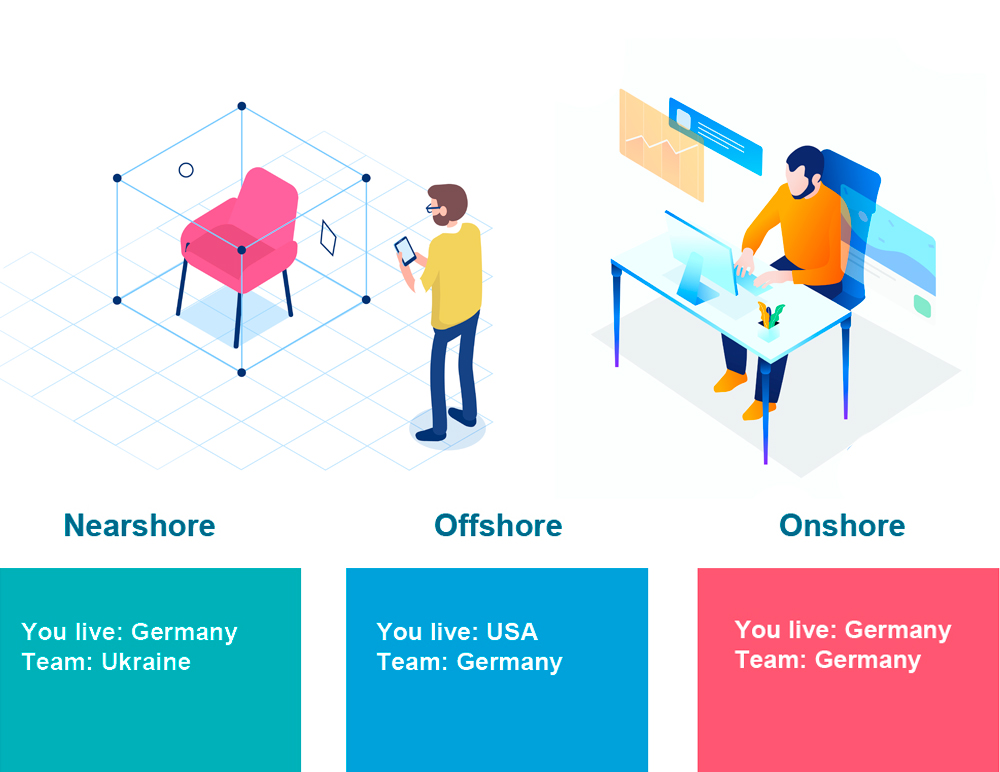 Always look for a culturally competent team!
News flash! Eastern European Augmented Reality app developers are culturally similar and offer similarly lower prices as their culturally different competitors.
Getting the right dedicated Augmented Reality developers:
industry focus, flexibility, technological stack
Each company's website shows how relevant its offer is to your project.
What is the team's expertise areas? Are they Augmented Reality game developers or do they specialize in industry solutions for wearables?
Relevant background boosts development and makes it possible to escape common pitfalls.
What is the team's established workflow and flexibility? Is it like yours? This is crucial to working well together and keeping your stress level low.
Is the team flexible? Are they agile and adaptable? Can they work with changing requirements? You can see it from published case studies. Perhaps they are  but you do not see a project similar to yours. Write or call them and ask them to tell you how they can handle your project.
What technological path do they offer?
The choice of a right technological stack ensures maintainability and scalability after your AR app becomes successful. While it is normal to completely change the stack for a prototype, an MVP should be redeveloped when it does not meet users' expectations. Flexible architecture and relevant technologies save both time and resources needed to pivot without pain, thus lowering chances you get stuck half-way to success.
Following industry news and trends
The most invigorating characteristic about Augmented Reality technology is that it keeps evolving in all three directions: AR hardware, AR software, AR services. These remain favorable arenas for AR startup ideas.
Magic Leap has finally shown its gear but is still far from being perfect; Microsoft HoloLens is nice AR hardware but is expensive. Developers only use them for industry manufacturers. What is going to be the next thing?
Augmented Reality engines keep being improved, providing application developers with features they once could only dream of. The door to innovation is wide open towards extended reality.
New Augmented Reality-based services emerge and compete for audiences. But there is room for everyone. We expect to see both online and offline businesses to apply Augmented Reality for visualization.
Here is the point: follow AR trends and expect your Augmented Reality developers to be doing the same—and to be one step ahead of your competitors.
Use the criteria above to hire the right AR developers for your project to range  them by importance based on your business needs. To choose the most suitable team, give each team points for the criteria on your list.
To find a reliable Augmented Reality development team, focus on relevant parameters: price vs. cultural similarity, industry expertise and background, preferred management practices, and AR trend awareness. Do your homework upfront and reap the rewards with a successful AR app.
Or save time by getting in touch with our project managers and asking them for a plan for your project.