Author: Olga Sukharieva
Apple and Google released their reviews in which their estimated revenue for augmented reality devices and content in 2019: $3.4 billion and growing. In 2023, they expect to see $36.4 billion in earnings from that industry alone.
Global corporations also invest in AR. Apart from others, Facebook is keeping up with the times trough Spark AR technology. Since 2017, people are able to build Camera effects then share their results on Facebook and Instagram.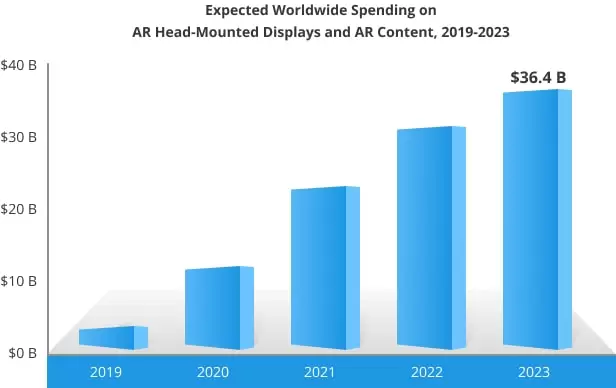 Spark AR Studio
Spark AR Studio is an editor allowing PC users to create effects for camera frames and shootings. Users can only make these AR effects on desktop devices then test them on mobile devices and use while streaming, taking photos, or video and picture editing.
Creators save the effects as frames, use whenever they want, and share them with other users on Facebook or Instagram. To date, only these two social networks support Spark AR. And it comes as no surprise that Facebook developed Studio, announcing its existence in 2017. Initially, it operated only on Apple desktop devices. But to date, the company reported that Windows also works, and the software is cross-platform.
According to Facebook, since last year's Facebook F8 conference, a billion+ people have tried the AR experience related to Spark AR. No, a billion+ people didn't actually use Studio. Most took or watched augmented photos and videos with ready-made Spark filters available in the effect's gallery on Facebook or Instagram.
Interestingly, some of the networks' users might use the effects without knowing about Spark. Masks and funny frameworks were available on Facebook and Instagram long before 2017. Some media platforms wrote that the company just renamed its Camera Effects Platform into Spark AR and old effects got new names. Good marketing ploy, right?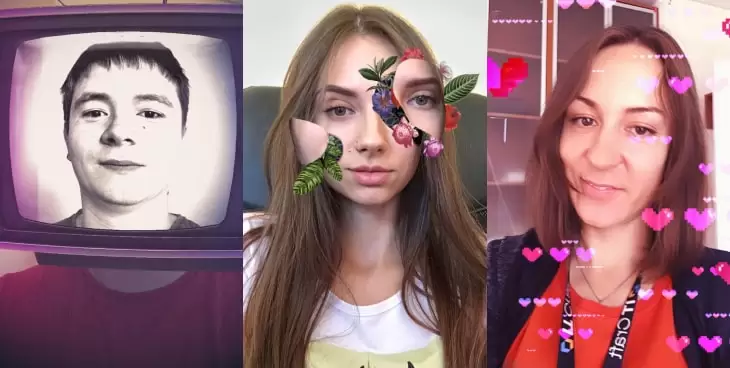 Creating effects with Spark AR Studio
At first, you must download Studio on your Apple desktop device. But before you start creating something, learn how to use the program. It's not as easy as might seem at first glance. You can find lots of information on the topic on the Web, including Spark AR terms or other specifications. For example, there is an official Spark AR Learning Center. A few video masterclasses are published on YouTube Facebook Developers page. Ordinary creators or bloggers also publish tutorials and share their best experiences. Subscribe to Facebook Spark AR Creators public page: developers regularly upgrade the Studio software.
This spring, Facebook announced new features to make AR effects building simpler, more interesting and interactive. First, there is an opportunity to divide the entire project into separate parts—blocks—that are shareable with other Spark AR creators. These blocks help organize the working process and get things done faster on a project.
Second, users have a testing mode built up on the platform and a completely reworked Patch Editor. It should operate faster. Spark AR patches suit those who don't want to deal with programming and scriptwriting. For instance, the developers promise that with patches you can build effects so adaptable to reality it's as though you know JavaScript.
Using Spark AR on Facebook for business aims
Marketers immediately adopted Spark AR tools as a useful technology for making ads and content for social media. Studio is more useful for designers, but in collaboration with other specialists (e.g., augmented reality developers), they can build extraordinary marketing solutions. Here are some inspiring Spark AR examples from companies using Studio to promote their products and services.
Two Lane marketing agency worked with an auto dealership from Toronto (Canada). Their goal was to create AR Facebook ads and an AR app where people could interact with 3D models of cars. They chose Facebook's Spark platform and integrated some of their own AR features. In a few weeks, they created Facebook AR ads that were shown to the target audience. Those interested went to the auto dealership website and tried the AR app. Two Lane managers said their AR solution brought notable earnings to the company.
Taco Bill, a chain of Australia's original Mexican restaurants, made an AR game to engage new visitors, enhance client loyalty, and boost sales. Designers prepared interactive pictures of dishes and some other foods (chili, cucumbers, lettuce, etc.).
They used Facebook's Spark AR Studio. Designers created a coupon look. Developers integrated a coupon code at the end of the game. The AR experience was promoted through the restaurant's media resources and Facebook ads. Users bought the game from the company's Mobile Facebook feeds or Instagram Stories. The results of the marketing campaign were also satisfying.
Best Spark AR Instagram Practices
To date, only a selected group of creators from businesses may publish and share their effects on Instagram. It is still an active closed beta program. All marketers who wish to take part must apply. Instagram users expect it will soon open Spark for business needs. Nevertheless, now you can easily find enough examples of private and marketing effects on the Internet. The variety, diversity and amount of content made with Spark AR multiply every day.
Well-known brands have already made their own Instagram masks to engage and entertain their fans. The first ones include Kylie Jenner, NBA, Ariana Grande, and Gucci. They took part in Instagram's early closed beta version. Later came Adidas with its Originals' Retro AR Filter, Disney with its Mickey and Minnie custom filter, Maddie Ziegler's Kindness Face Filter, and others.
1 Jaskowska for Instagram
It makes great business sense that Facebook was the first business to use Spark AR for marketing on Instagram. The company has launched a large-scale campaign with the help of designer, Johanna Jaskowska. She helps spread Spark AR technology on the Web. There are many videos of her demonstrating how to make and apply face masks. Jaskowska is an active Spark Creator and Instagram user. Everyone registered on the network can try the effects of her Instagram profile.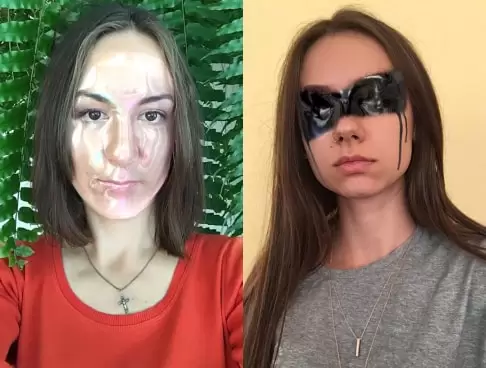 2 Gucci
Gucci picked up the trend at the right time and shared a Beauty filter that gives you your look of choice. Select one from three looks provided by the brand. Each simulates the portrait of a renaissance- or baroque-style. (Gucci often uses fashion of that period and shares pictures of the kind in its news feed and stories). The filter is reminiscent of old photo cutout boards where people put their faces through and have photos taken and have fun. The effect is not about high-fashion or style samples. But it looks hilarious and people like it.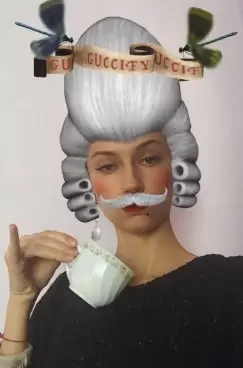 3 Rihanna
Lots of Rihanna's fans enjoy her Diamond Headpiece mask. It was created for a charity event Diamond Ball aimed at gathering money for Clara Lionel Foundation. The organization supports health and educational programs all over the world. The AR filter helps increase people's awareness and assists in collecting money for the non-commercial project. Also interesting, the filter provides a mode for two people. For instance, if you take a selfie with a friend, "sparkling diamonds" appear on both heads.
Present state and future of Spark AR
AR technology to serve business needs is developing in front of our eyes. It is flexible and bursting with innovative solutions. There are a few apps adored by users that look like Spark AR—MSQRD and Snapchat. Usually producing an effective AR experience demands a highly skilled, multi-functional team. Each solution needs creative concepts, a script, and even a development team for writing source code (e.g., to implement AR effect into a game or other content).
Spark AR technology is a new software that could well become a professional designers' tool to use for marketing campaigns. Find an original idea and embody it like Taco Bill, Adidas, Gucci, and Rihanna. Spark is already tested on Facebook. Instagram is more a yet-to-be-discovered territory.
There is no library for Spark AR effects. That makes it more challenging for users to find and apply them. AR creators might also feel inconvenienced. New effects must be approved by a Facebook team. It is probably reasonable because content cannot contain sexual, racist, abusive or bullying manifestations. But at the same time, creators are censored. Via Facebook, businesses can openly use Spark AR for their commercial projects, but Instagram is open just for some selected brands.
It is great that the Spark studio is free. But despite the official announcement that the software is available for Windows, users must apply to the Spark Team to get the installation package (an unnecessary step for Mac users). Some are rejected. Mac users are not. They can freely download Studio at any time they wish.
Engineers still work with Spark AR Studio efficiently. Most of the published content deals with selfie effects, face masks, and so on. However, Spark Studio makes it possible to design far more complicated effects. These include:
change background on photos

modify people's skin on portraits

add animation and interactivity: no coding knowledge necessary
Certainly, Spark's potential is neither completely obvious nor fully explored. The technology is still at the design and testing stage. Until it is, it remains free of charge. Facebook marketers are collecting insights to make the project commercially successful and profitable.
Keep up with the times. Use all avenues to engage your audience and promote your brand. Invisible Toys engineers have extensive experience in building AR apps and are always ready to tackle new challenging tasks.