Author: Aleksey Andreychenko
People believe virtual reality belongs only to the entertainment industry and is all about games. No longer. More and more, large companies all over the world use VR marketing. Apart from the obvious motive to keep pace with trending technologies, virtual reality app development for business provides competitive advantages to brands: full immersion into content, making a memorable impact, a deeper emotional contact, and more.
Marketing professionals have long been aware of how powerful VR-based promotions can be. Many world-renown brands have already adopted VR technology to reach their business goals.
VR in marketing: use cases and best practices
Companies using virtual reality for marketing attest integrating VR technologies to their digital strategy helps increase product awareness.
For example: The famous provider of hotel services Marriott Hotels is a frontrunner in encouraging technological changes in the travel and tourism industry. The world-famous hotel created a special 4D tourism experience together with Framestore VR Studio and Relevant. They "teleport" their customers to different Marriott Hotels located all around the world.
TOMS Shoes emphasizes its "make the world a better place" approach with its branding message. The company mixes both virtual reality and marketing to spread its message. This is hHow does it accomplish this: when visiting TOMS Shoes US stores, people can use a VR chair to see the company's donation activities in Central America with every new sale.
Observing virtual reality marketing trends 2018 in different industries:
VR marketing in real estate
As with many industries, real estate has overwhelmingly changed due to technological advancement. Searching endless lists of properties for sale or rent striving to find something relevant is a time-consuming, tedious endeavor. VR real estate mobile apps help shorten search time. Today, customers can leverage mobile apps and virtual reality to take a virtual tour of home listings and decide whether they are happy to see the physical object or must keep searching.
The value of virtual reality helps real-estate professionals grow their businesses by delivering top-class services to their clients. Since most customers first look for properties on the Web, it's particularly important to get a grip on VR technologies as soon as possible.
Matterport's CoreVR  app
Matterport's CoreVR app enables real-estate agents to create virtual tours and facilitates by reaching out to potential clients by means of VR technologies with promo videos (virtual or 360°). It also lets users take interactive visits to specific properties.
YouVisit app
YouVisit app is not just another real estate VR app—it is considered as one of the best apps for virtual reality tours ever. The app provides new ways to different buildings—visit homes, hotels, colleges—and even attend popular events.
VR marketing in retail
Big retailers have taken advantage of the great opportunity VR provides for their business domain: retailers create huge virtual showrooms with similar—or less—space than their brick-and-mortar stores. Visualization of shelf assortment, as well as ease of finding and comparing different products, makes VR an indispensable tool for purchase activities.
For instance, the home improvement chain, Lowe's, applies a head-mounted VR display for a virtual journey into the world of kitchens and/or baths. This app turns shopping into a pleasure, and also provides a clear picture of how various products would look when put into a room.
The famous Chinese company, Alibaba, provides its clients the possibility to buy products via specific VR headsets.
Immersing into 360° shopping, customers are able to review available products in the tiniest details as well as view clothes together with accessories shown on virtual models.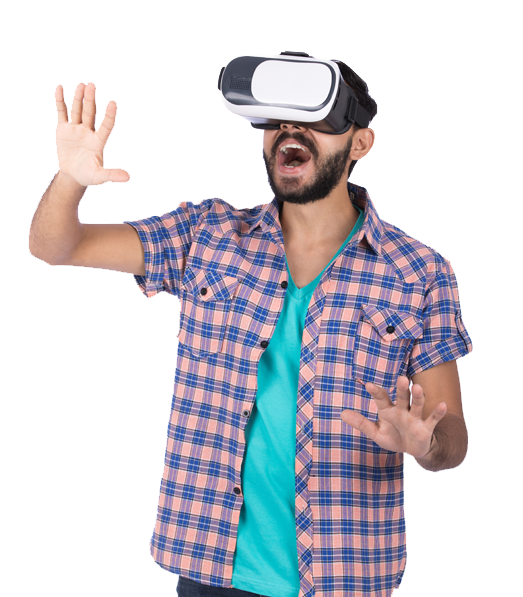 Marketing
VR apps
Contact our VR development team to discuss your project
VR Marketing in Tourism
VR is definitively one of the greatest innovations today that fits the travel and tourism market to a tee by focusing on feelings, perception, and visual enjoyment of particular destinations. It helps people experience travels to the farthest destinations possible without actually leaving their homes.
Google Earth VR app
Initially, Google Earth was designed to explore places on our planet. Virtual Reality enhanced the app with enhanced visualization and helped users become an integral part of the selected scene and to admire breathtaking views any place in the world from any place in the world.
Omnivirt VR app
This amazing app enables users to visit places unavailable to the general public because of either forbidden access or fragile environment.
Moreover, tourists have a great opportunity to enter locations with a completely or partly prohibited entrance.
Future of VR in marketing
According to research, the number of passionate VR users is forecast to increase to 170 millions in 2018. Most likely, VR growth will leave TV in the dust in the 2020s.
The VR marketing experience implies tight interactions between consumers and businesses while remaining a customer-centric activity. No wonder, marketing experts constantly strive to discover new opportunities to incorporate VR solutions in their strategies.
By answering the question, "How does virtual reality affect marketing?" Google anticipates that by 2025, we will see brain implants available on in the market. A direct connection to the brain and the central nervous system is available now. To date, technologies of direct information transfer to the nerve endings has not been developed to a sophisticated-enough level. Plus, they are currently extremely expensive. Nowadays such technologies are used predominantly in the medical or military industries; in particular, by consciously operating artificial limbs by means of neural impulses.
However, according to Google's research, in less than 10 years, VR will become an integral part of tools able to project images directly to the eyeball's retina. A slight nod or eye movement can act as a click or scroll.
Today's VR devices impact the human sense receptors only. VR devices of the future will be able to interact directly with a user's brain.
So we can only imagine how the model of information consumption is going to change and how different such typical things like watching a promo video or shopping might become in the future.