Author: Arina Golosovskaya
A few years ago, virtual reality (VR) was considered to be beyond credibility, too futuristic. The high cost of technology did not allow using its capabilities to the full.
And although the first device capable of creating a complete virtual reality experience appeared in the early 1960s (about the same time as the Beatles), the technology could only dramatically evolve with the appearance of specific VR helmets for a thriving gaming industry.
Using virtual reality in education shows great promise. Because students must digest huge portions of information, presenting the information in a way that can essentially facilitate its perception through a three-dimensional model.
And no other technology comes close to VR tin significantly improving and simplifying the education process.
What can virtual reality do for you and your students' education? Iinteract with objects and work out required skills to manage complex equipment, take tours to the Ancient World or take part in the Battle of Trafalgar, travel inside the human body and study its structure, conduct laboratory classes and practical lessons in the virtual world: do this and much more i via training programs based on VR technology.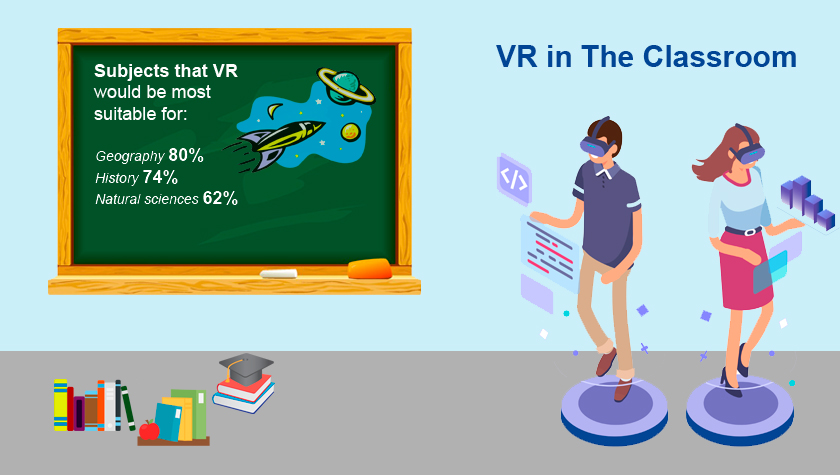 Uses of virtual reality in education are impressively vast. Virtual reality is the ideal learning environment. The perception of a virtual model with a high degree of reliability makes it possible to use VR in training and educating high-quality specialists in various fields: aviation, medicine, engineering, technical maintenance, etc. Special attention should definitely be paid to the quality of visualization, since VR images must absolutely be realistic.
Benefits of Virtual Reality in Education
One of the most important benefits of using VR in education and training is great participation by students leading to tremendous beneficial results. In a nutshell, one lesson in the virtual world successfully replaces dozens of usual ones.
According to research, students tend to spend 20% of their classroom time  absorbed with their mobile devices that has nothing in common with their studies. This means smartphones distract students' attention from studies. Thus, VR technologies could  contribute to better education because students would no longer want to waste time staring at smartphones because they would be otherwise engaged with VR gadgets.
In modern multicultural societies, language differences can be a challenge. Students who would like to study abroad need to have an in-depth knowledge of a foreign language to fully understand the material. Virtual reality enables built-in translations, thus eliminating most obstacles between students and their educational goals.
Traditional classrooms cannot compete with VR technologies that can help students discover various realities and gain appropriate learning experiences.
Using VR devices, students are better able to understand  educational visualizations. This, in turn, greatly influences the entire learning process. VR in higher education can come in handy if students strive to properly understand complicated ideas and new theories and concepts. Such an approach makes digesting and retaining complex information easier and more efficient.
Undoubtedly, a positive learning environment for students implies a solid basis that leads to better achievements in learning. Thus, Virtual reality in education and training is the perfect tool for students who strive to obtain as much knowledge from their classes as possible, in order to apply it in future.
Examples of VR in education
See some of theVR apps in education below:
1 Discovery VR
Stunning VR videos from Discovery Channel enable users to dive into exploration of new places and locations, meet interesting people, and become familiar with new ideas.
Follow favorite shows on Discovery Channel in VR.
2 Orbulus
An amazing app with 3D, 360° images from all over the world. Plenty of different locations to experience. Among them, you can find Rockefeller Center, the Pyramids, Sydney Opera House, the Northern Lights and much more.
3 Bosch VR
This application is a perfect opportunity for art lovers to get acquainted with the charming world of "The Garden of Earthly Delights" by the famous Dutch painter, Hieronymus Bosch. Enjoy a 3D-trip to Bosch's world and his distinct perception of heaven and hell.
Future of Virtual Reality in Education
Virtual reality is supposed to be a perfect match for education and training. VR educational applications and educational simulations prove to be extremely successful according to different research studies. There are many reasons to use VR in education. All the educator needs is to define when and where it is expedient to apply this new technology.
Virtual reality-based future of education seems to have great possibilities. VR uses are obviously going to increase over the next few years. Virtual reality will improve good, old teaching concepts, so the VR impact in education will definitely grow making the learning process both an efficient and engaging activity.