Author: Arina Golosovskaya
TL; DR:

Do you want an estimate for your AR app idea? Get it for free now!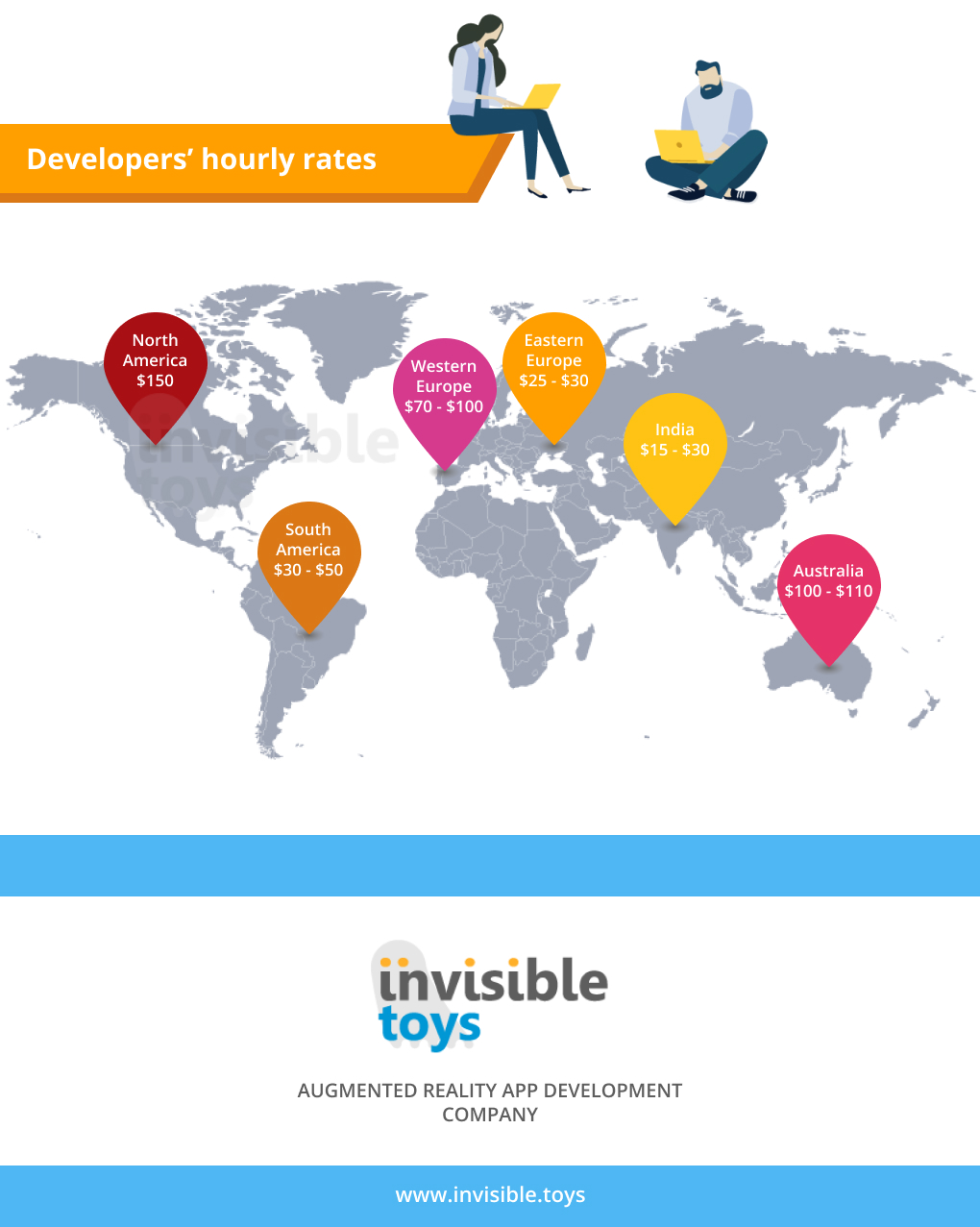 What tops a prospect's list of concerns when looking for an experienced Augmented Reality app development company?
Cost.
"How much does it cost to get an Augmented Reality app developed for my business?"
When it comes to pricing, there is no clear-cut formula—just estimates. Augmented Reality app development costs vary greatly based on different app types: it ranges from $5,000–$10,000 for a simple demo app developed in 160 working hours to $300,000+ for a feature-rich, custom-built app that takes nine months and longer to develop.
But estimates cannot clearly factor in the risk cost of unforeseen challenges—challenges that must be addressed with sound expertise and experience. The more complicated the app, the greater the number of unforeseen challenges.
Predicting how much Augmented Reality will cost
There are three main components to consider and include when pricing an AR app development costs: scope of work, timeline, and development team:
Scope of work

– features, complexity of app logic, plus necessary work to develop the app, including QA activities, project management, launching / publishing in app stores, post-launch support and maintenance, etc.

Timeline

– rush means rise in costs: the tighter the deadline, the more expensive the development (exceptions to this rule include prototypes and MVPs).

Development team

– total costs include timeline multiplied by a team's hourly rate; hourly rate depends on team's experience and geo-location.
And, returning to complicated, customized apps: the greater the customization an app requires, the greater the unpredictability when determining price, the greater Augmented Reality costs to integrate into an app.
For example:
How do different project types affect how much AR apps cost? Let's consider three cases.
simple demo / MVP (minimum viable product) app
more advanced app with some custom features
complex, enterprise-level app based on special algorithms
Remember: Visual design is absolutely crucial to obtain a fairly close estimate. No reliable estimate on Augmented Reality app development costs is possible without awareness of the visual part of the future app.
1 A simple demo / MVP app
Demo and MVP apps are used to present an idea to a target audience in an engaging manner. These apps usually have a simple structure and user-friendly, intuitive UX, so that an average user can enjoy it on any smartphone—even a relatively old one.
A good example of an Augmented Reality demo app is AR Building Blocks by Invisible Toys letting users play with augmented wooden blocks on any horizontal surface.
This type of app usually has 1–5 AR models onboard, 1 key feature and requires zero learning from users.
Basic moves are accessible such as view, rotate, pile 3D models, take a snapshot, etc.
To save costs, a demo app seldom includes a custom logo.
How much does AR cost in this case? Costs include the following:
Design and wireframing – 16+ hours
Programming – 40+ hours
Integration of 3D models – 1 hour / depending on source format and number of models
Publishing in stores – Android – 4 hours, iOS – 8 hours
Please note: Invisible Toys can provide a simple demo AR app and have it launched within 20–22 business days or 160–176 working hours. Definitely "app enough" to test target audience reaction and decide whether Augmented Reality is the right growth direction. (For the vast majority of businesses, having a demo AR app results in a tremendous step up. For example, check out how AR boosted up print ads.)
The following examples include simple demo / MVP AR apps you can get for your business:
Marker-based (includes marker plus model integration, menu upon request, and a splash screen)
Location-based (up to five models)
Markerless (includes model/video integration, menu upon request plus splash screen)
AR catalog (iOS / Android mobile app plus administration panel and up to five models)
2 A simple app with several customized features
A simple app with custom features has a branded logo and a higher number of features than the MVP with the aim of satisfying user's needs / wants. This kind of AR app can be used as a configurator or catalog, including the following features:
choose an item
change and invert colors
visualize item inside a room
take a photo
save and share with friends
and more…
Different kinds of configurators fit within this category. For example, Roomle furniture configurator makes it possible to choose a type of furniture, set up the chosen size, and see its real dimensions and compatibility with a room interior via the smartphone screen.
It is also possible to add a cart feature to this kind of app: chosen models are available for purchase, and voila, a new, convenient sales channel opens.
Development effort and cost of Augmented Reality are usually distributed in the following way:
Sign in – 12 hours: integrating APIs from back end
Catalog – 24 hours: menu grid with items
Sharing – 4 hours iOS + 4 Android
Cart – 8 hours
Analytics system – 24+ hours, depends of system
API integration – 16+ hours per API, depends on API documentation and integration complexity
Back-end development – back end must be estimated as a part of specific features
Of note: App frameworks help developers spend less time on standard elements, eliminating potential errors. Invisible Toys developed a special framework to decrease download time of 3D models to mobile catalogs, thus boosting launches of AR ecommerce apps.
So, if you want a catalog that is easy to maintain and manage without extra help from the developers' side, we can make one for you based on our special framework. This way, you still get a custom app but solidly based on a stable, workable solution.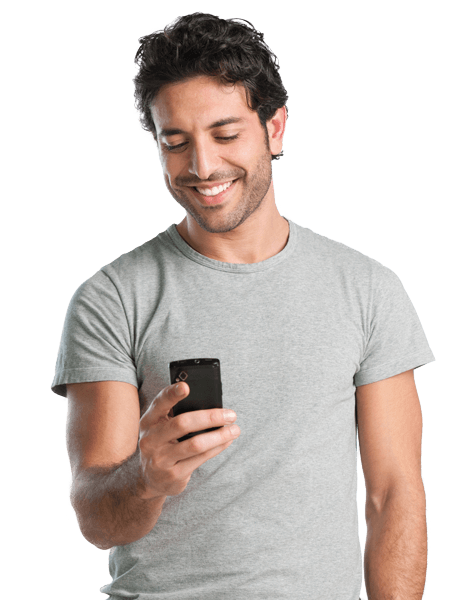 Create Your
AR apps
Contact our AR development team to discuss your project
3 An enterprise-level AR app
It's no big secret that the benefits of Augmented Reality in manufacturing are enormously rewarding. Augmented Reality can be used for staff training and knowledge distribution, quick referencing, and cooperative work. It can also help with indoor navigation and workload optimization.
Various concept apps already exist focused on helping those working in plants, hospitals, laboratories, and doing fieldwork.
For example, Bosch Augmented Reality app helps workshop staff get all relevant information on car repair and maintenance available literally in front of their eyes. The app displays the order of operations and instructions for each operation together with required tools right in the place where they are needed.
Enterprise-level apps include management systems for fast and efficient development and publishing of AR content in order to maximize support of workflow inside workshops.
Also, this kind of app makes it possible to track inventory when looking for needed tools and spare parts.
How much does AR cost on the enterprise level? Below are estimates for development of a custom AR app:
Sign in – 8 hours
Catalog – 24 hours
AI-based recommendations – 100+ hours
Recognition system – 60+ hours
Sharing – 8 hours
Content management system – 80 hours
Integration of 3D models – 4 hours for each
Publishing on a store – 16 + 8 hours
An important note: enterprise-level AR apps often require special AR goggles such as Microsoft Hololens. When starting AR app development, keep your target platform in mind. When an AR platform is new and not widely adopted, it might take developers—even experienced ones—more time to learn its specific aspects.
App development rates
Hourly rates vary depending on the developers' location. Rates decrease from west to east: US- and Canadian-based companies have the highest rates followed by Western Europe. Next comes Latin America and Eastern Europe. Eastern-Asian countries, such as China, India, and Vietnam, offer the lowest development prices, but the lowest price might mean cheapest and, consequently come at a cost. Also, do not underestimate the role cultural differences play when choosing a development team.
According to pricing on the website of the Washington-based research company, Clutch, development charges vary, as follows:
North America: from $150/hr
South America: from $30-50/hr
Western Europe: from $70-100/hr
Eastern Europe: from $25-30/hr
India: from $15-30/hr
Australia: from $ 100-110/hr
The hourly rate can vary depending on the amount of work and its complexity, but the rate includes the per-hour work rate for each of the team members unless otherwise specified.
An important note: look for professionals who place a high value on their work and reputation. Do not search for and hire the cheapest development team in the market. You might win the app development lottery—then again, you might not.
Great developers invest their time and money into mastering their skills: they are not likely to work for low rates.In return, you get quality and lowering Augmented Reality app development costs in a long run.
Anything else you should keep in mind when looking for the best Augmented Reality app developers for you?
1 Server maintenance
First, Augmented Reality costs for app maintenance must be mentioned. Different kinds of apps require different kinds of hosting, but the general rule is it must be an established hosting provider with a broad band channel.
2 Scalability
Second, the app must be highly scalable. Too often, scalability can be an issue when an app gains traction. For example, lack of scalability played a bad joke on Pokémon Go: the game became popular rapidly, but the development team was unprepared. The end result? Freezing apps, millions of upset fans from all over the world, and high abandonment rates. True, Pokémon Go bounced back—but you might not.
Choice of SDK
SDK (or Software Development Kit)—a set of tools aimed to simplify development process —makes it possible to add various features to a new app and efficiently port it onto different platforms, thus saving considerable time and avoiding common errors.
Choosing the right technological stack depends on both project type and goals. Usually, the development team decides the best technological stack for the app. It can be marker-based, markerless, projection, or superimposition AR.
Developers choose SDKs for the following reasons:
Support of a programming language they know at the expert level
Constant updates and integration of latest Augmented Reality improvements
Support of target AR gear such as Microsoft HoloLens, iPhone X, or Magic Leap
Ability to effectively maintain the app on target platforms
Availability for free and commercial use: the type of license required depends on the nature of a project
The information below is for reference to show the difference between technologies used to create different types of AR apps.
Unity – cross-platform engine and software developers' No. 1 choice. AR developers cannot help but use it every day. Most AR apps successfully run a Unity engine under their hood.
Limitations: lack of WYSIWYG feature in the editor
Significant apps: literally thousands
Vuforia – proclaimed to the most popular platform for AR content creation by Unity, Vuforia provides ultimate image recognition tools as well as all required instruments for comfortable app development.
Pricing: $499, one-time purchase, for classic license; $99/mo. for cloud version; the pro version is available upon request.
Features: makes it possible to launch both marker-based and markerless apps, use external cameras, play full-motion videos, track targets behind barriers, and more
Limitations: none of note
Significant apps: Ask Mercedes, Star Wars
Kudan – this SDK implements a so-called computer-vision approach, but it also focuses on modular algorithms and versatile architecture. Being a general-purpose SDK, Kudan targets versatile processing architectures striving to provide an accurate and robust performance on different devices.
Pricing: free for indie developers; $1,300/yr. for SMBs; enterprise license upon request.
Features: SLAM, marker recovery mode, extended tracking and detection, automatic cropping for improved image recognition.
Limitations: all limitations are related to use of SLAM technology.
Significant apps: Pokémon Go
Apple ARKit – a special SDK introduced by Apple Inc. to provide magnificent Augmented Reality experience to owners of Apple devices. ARKit provides developers with improved algorithms and rendering of objects.
Pricing: free for those with an Apple developer account.
Features: detection of 3D objects, multiplayer AR games (they call it shared AR experiences).
Limitations: available only for iOS.
Significant apps: Super Mario AR
Google ARCore
Pricing: free
Features: accurate measurements, save and restore world map, QR code detection, vertical / horizontal airplane detection, and more.
Limitations: available only for Android and iOS.
Significant apps: AR Ruler App
Maxst – an all-in-one SDK providing everything needed to efficiently build an app. Maxst offers different tracking and scanning options, cross-platform support (iOS, Android, Smart Glasses, and more), support of different types of content and more.
Pricing: free for non-commercial use; $499/one-time purchase for apps under 100k downloads; $599/yr. for fewer than 100k downloads but with instant requests to the engine; and custom pricing for apps with over 100k downloads.
Features: powerful performance, different kinds of image trackers; SLAM available; support of various types of smart glasses.
Limitations: none noted.
Significant apps: AR Manual for Mechanics
If you need more information on the topic, you can get more insight in our study of best AR SDKs.
In conclusion
Augmented Reality costs are, at times, challenging to nail down because some types of work on a project might take longer due to unforeseen challenges (e.g., working with a beta version of a new feature, changes in recognition algorithms, OS updates, etc.) This is why it is crucial to select a reliable partner able to understand your business and your business goals, a partner who offers a relevant solution specific to your needs—and keeps promises made.
Last but not least. Once launched, the app becomes both a source of revenue and of expenditures. The app might require regular payments on subscriptions for third-party services, server support and maintenance, and updates. Otherwise, it quickly deteriorates frustrating end users and giving you bad press.
Look for a responsible person or team who will keep an eye on your app ensuring it works smoothly. This is the best way to save Augmented Reality costs.
FAQs:
Is Augmented Reality expensive?

As with everything, it depends on the details of development required.

You can get a simple demo app taking less than 160 working hours.

But Augmented Reality app development costs more when you want an elaborate app with custom design and complex app logic.

Simply put, a complex app requires considerable work, i.e., more time needed for its development and launch. It can take 3 – 6 months of consolidated teamwork. As a result, AR app development costs skyrocket.
We recommend our clients start small with MVP development. This makes it possible to both launch an app and maintain control over AR app development costs.

However, if you want concrete numbers for your AR app idea, click on the link below and send us a message.
I want to discuss an AR app

How much does it cost to build an app yourself?

An Augmented Reality app costs are low when you build it on your own.

Check out the rough estimate of Augmented Reality costs below:

a powerful Laptop or PC needed for working with graphics
Smartphone / Tablet (for testing)
IDE for coding (free plans are available)
SDK licensing (many SDKs are free for pet projects)
a notebook / blackboard
10 – 20 hours per week within 1.5 – 2 years
hosting costs (you might need to book a dedicated server)

You need software development skills—and time you need to master them.
As with any DIY activity, costs of Augmented Reality app require a lot of time and some initial investments.

Answer this question: Why do you want to build an AR app?

Do you want to build AR apps as a hobby or as your future profession?
Welcome to the community. ☺

If you want an app for making money, would recommend you hiring AR developers. This will probably, cost you less in terms of time and money investments.

How do I create an augmented reality app?

Basically, you take the same steps an AR team does:

1 Requirements

Formalize app criteria, so you can correctly estimate scope of work on your project. Use app requirements as your guideline for AR app development. You can change them later based on your needs or those of your audience.

2 Design

You need to prepare designs for all elements in your app:

icon
icon
app screens and their elements
3D models

You can use elements from a stock library, make your own, or pay an artist.

Make sure all screens are intuitively clear. Make it completely clear to users what they must do.

3 Coding

You make things work by coding app parts. Most likely you will have to use several programming languages, such as C# for Unity, Kotlin for ARCore or Swift for ARKit, and a database language if you want to save and store user data in a database.

4 Testing

You must thoroughly test your app to ensure everything works as planned. To do this, you need a device for your target platform—a smartphone or a tablet. You must do testing after each series of changes into the code base.

5 Launch

When your app is ready, you submit it to the app store. Your app is subject to a review. Before you start this process, check the latest version of the guideline for App Store and Google Play to ensure your app will pass the review successfully.

6 Post-launch support and maintenance

Post-launch support and maintenance is an essential part of software development cycle. At this stage, you will need to ensure the app works on user devices, as promised. You must pay for server hosting (if needed), make app updates, fix bugs, and respond to user requests. Make sure you provide support within reasonable time.