Author: Arina Golosovskaya
VR apps are gradually making themselves at home in our personal lives. Soon children of all ages will include them on birthday and holiday lists.
But parents must keep in mind that there are age restrictions when it comes to virtual reality for kids. The age-level restriction depends on each particular technical gadget. While some of them have age 12+ restrictions, others strongly recommend children not use VR devices at all—or, at the very least, to restrict children playing virtual games only when supervised by parents. Nevertheless, virtual reality app development for kids is big booming business now.
Below is a list of some VR games designed for children that require virtual reality glasses.
Best VR apps for kids according to gaming experts:
3 Google's Expeditions
Google's Expeditions (Free) -Initially this app was used solely in some US schools. However, now everybody can download it for free from the Google Play Store. Children get to see many interesting places on Earth: Continents—e.g., North and South America, Africa,  Australia—cities and landmarks—e.g., London, Buckingham Palace, Paris, Louvre Museum, New York, Statue of Liberty, Athens, Parthenon—perhaps even the Seven Wonders of the World.
1 Jurassic VR
This app makes it possible to wander amongst the dinosaurs; kids can approach them without fear. It looks and feels like going on a Safari tour, where your children can climb aboard a vehicle and observe dinosaurs "in situ".
2 Lamper Cardboard: First Flight
This awesome game was created specifically to use with VR glasses for children. Impersonating a firefly, the player has to evade obstacles while moving its head and controlling its flight. If you like video games, this funny app will definitely fit the bill.
5 Assetto Corsa
A very popular simulator that belongs to the category of VR racing games for older children. It is known for its intuitive physics and thrilling visualization. If you like attractive cars—or the American muscle cars—speed and breathtaking races, this app is definitely for you.
4 The Diner Duo VR a nice VR PC game for children
Players become chefs who must satisfy their customers within limited time constraints. A local multiplayer mode allows playing with friends and competing with them in exciting cooking battles.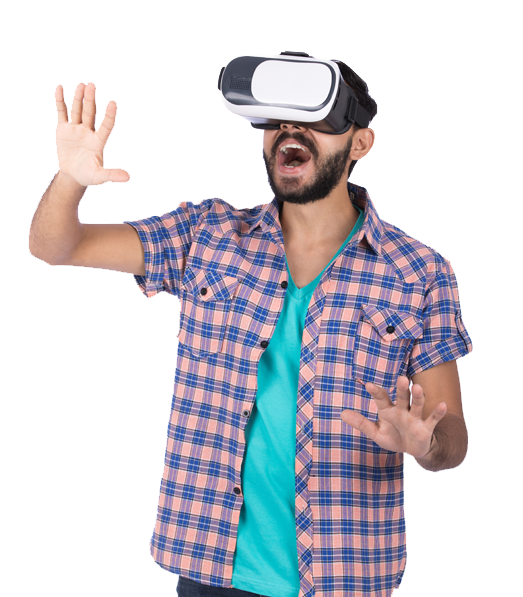 For Kids
VR apps
Contact our VR development team to discuss your project
Is VR really safe for kids?
Several years ago, US scientists conducted studies on laboratory rats and discovered completely different brain-neuron behavior when in the virtual and real world respectively. Most of the neurons were closed in the virtual reality. The significance of this fact is not yet clear; hence, scientists need to carry out additional research for assessment of impact in long-term VR use.
In a younger age, the brain is very elastic and malleable, so a long-lasting impact with improperly assembled devices could possibly be harmful to a child.
Also children cannot grasp how to ease any visual tension they might feel. They don't have the mental capacity to comprehend when to remove a gadget the moment they feel uncomfortable wearing it.
A lot depends on the type of gadget used
Nevertheless, it doesn't necessarily mean that VR is dangerous for children or won't be safe in the future. Regarding VR safety, a lot depends on the type of gadget used, the chosen content, amount of time spent in VR plus stress and tension; that is, the physical, emotional and psychological impact on each, individual child.
The impact of VR on children's minds raises big concerns, because children in the younger age range can barely differentiate a virtual world from fantasy and fiction. This is why children should not spend much time with VR headsets.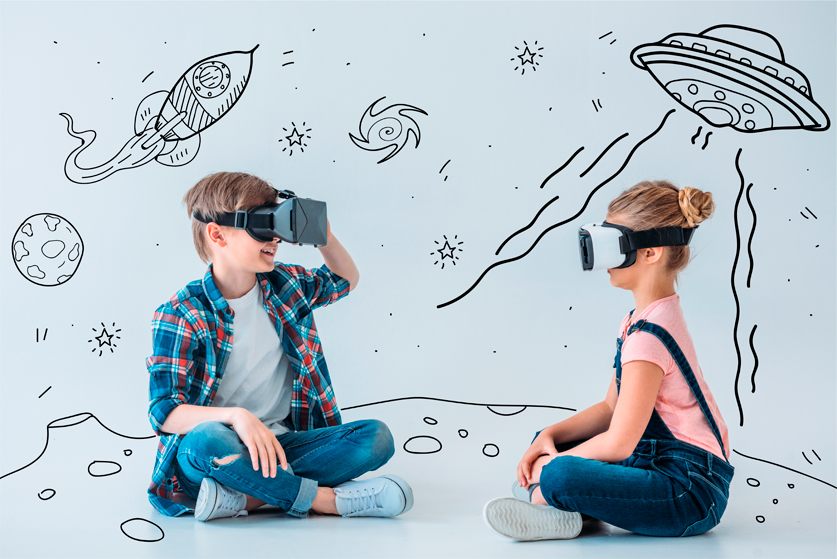 Taking into account no specific research to date has been done on VR impact on children, insufficient input data about safety of modern VR technologies prevent assessing the level of influence on children's health.
Another problem is the probable impact of VR technologies on children's sight abilities. However, US ophthalmologists express confidence that there is no evident proof on irreversible eye damage caused by extensive screen watching.
It is very difficult to conduct proper research with children as participants
Apparently, it is very difficult to conduct proper research with children as participants. On an upbeat note, sometimes VR users get headaches or eye fatigue. Scientists believe that such side effects are predominantly experienced by people who already have problems with eye movement and focusing. Hence, VR headsets can help diagnose sight issues. This could be especially important for children. The sooner a problem is discovered, the more efficiently an eye specialist can address this issue.
Evidently, scientists and VR headset manufacturers have laid responsibility of children using VR technologies at the feet of their parents: the onus is on the parents to decide what is useful and what is harmful for their children's physical, mental, and emotional well being.
With few exceptions, when used in reasonable limits, VR will not cause undesirable consequences. Everything should be strictly measured out, as per individual limitations.
Thus, if the above-mentioned suitable precautions are taken, let your children occasionally experience the magical world of virtual reality games. Note of caution to parents: if your child is young, either sit with them or be present in the room when they are wearing VR headgear. And, before you let them experience VR, you should try it first, so you know what they are seeing and can imagine what they are experiencing.