Author: Arina Golosovskaya
It seems impossible as, but it's almost time to start thinking about Holiday gifts for the young children or grandchildren in your life. We have formed the top five AR apps from the best augmented reality educational and entertaining ideas from the toy industry that are sure to captivate kids' imaginations while providing hours of entertainment.
Wearable Technology
For those young doctors and nurses-to-be, Virtuali-Tee may be just the thing!
At first glance, Vitruali-Tee appears to be just another patterned T-shirt, but it's much more. Founded by UK-based Curiscope and initially funded through a Kickstarter campaign, Virtuali-Tee is an educational Augmented Reality experience in the form of wearable technology that makes learning fun.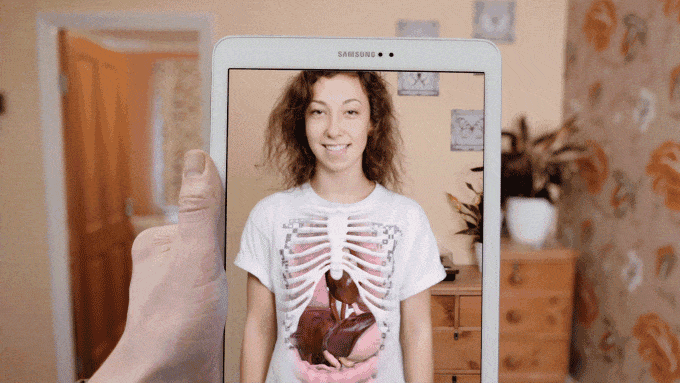 Viewed by pointing a smartphone or tablet with Curiscope's free downloadable iOS or Android app at the wearer, Virtuali-Tee becomes an in-depth anatomy lesson. Virtuali-Tee teleports the viewer into the human body, displaying everything from bones and blood vessels to internal organs in 3D. The digital programming lets viewer get a close-up look at and interact with the organs and circulatory system to see how the body functions. The wearer, of course, must point digital device at his or her image a mirror to see inside the body.
Available in a variety of sizes and colors, Virtuali-Tee is priced at around £20 retail. Look for more unique and educational AR and VR experiences from Curiscope in the future.
Augmented Reality Puzzles
Today's kids begin using tablets and other digital devices at a very early age, and playing with them can be educational as well as entertaining. An example is Educo's line of Augmented Reality Power Puzzles, which combine learning with play – surely, one of the best iPhone AR apps.
Sold individually or as a set of four, Power Puzzles comes in sturdy 48 cm x 20 cm wooden frames, each with 25 to 35 puzzle pieces. The four themes are Formula One Racing, Power Boat Racing, Motocross Off-Road Racing and Air Show. After the pieces are removed from the frame, a smartphone or tablet with Educo's free iOS or Android app installed is used to scan the reverse of each piece before putting the puzzle together in the conventional manner. Viewing the finished puzzle through the device brings it to life with animations, songs and stories while presenting learning activities and challenges.
Educo is a subsidiary of worldwide educational book and materials supplier Heutink International.
Augmented Reality And Sesame Street
Developed by computer giant Qualcomm, Vuforia is an augmented reality platform with hundreds of applications worldwide over numerous industry sectors, including toys and games. Using Vuforia, Qualcomm and Sesame Street have together created an AR app that makes the children's television classic come alive.
When viewed through a smartphone or tablet the app installed, a mat placed on a table or other flat service is transformed into the interior of Bert and Ernie's apartment, complete with windows, wallpaper, curtains and pictures on the wall. When small dolls depicting Bert, Ernie, Big Bird and other familiar Sesame Street characters are placed on the mat, they begin to speak, sing and move around the apartment. Add a television, and the characters "watch" their favorite shows. Place a jukebox on the mat, they begin to dance. Using ordinary items such as a chair, table or book, Big Bird gives reading and spelling lessons just as he does on real world television.
The Vuforia/ Sesame Street creation provides hours of fascinating entertainment and creative learning experiences for eager young minds (adults seem fascinated by it as well!).
AR SuperBuchs
Tiger Media Deutschland's series of SuperBuchs add a new dimension to children's reading and learning experiences by using augmented reality to digital enhance real-word images. Intended for young readers aged two to ten, SuperBuchs are a series of popular children's stories that can be either read as an ordinary book or brought to life with colorful 3D animation, sounds and games.
Viewing a SuperBuch requires downloading TigerBooks' free AR game for iOS (an Android app is available too!). Using current generation devices is recommended, since SuperBuch's will not function properly on some early smartphones and tablets. Once installed, pointing the device at images in the book brings them to life, with Tibo the Tiger guiding the child through the story. Touching the screen brings the SuperBuch's illustrations to life and makes them part of the story through sound and automation. A preview demonstration of SuperBuch on a laptop or desktop PC is available at http://superbuch.de/tigerbooks-app/.
Currently, there are 23 SuperBuch titles available, with plans for more releases in the future.
FEATURED IMAGE: Shutterstock
Lina
I believe, is the next evolution in Wearable AR.
Howie
AR SuperBuchs, this should be a cool app for kids. I hope they will read more and not play on iPad