Author: Arina Golosovskaya
Much of the toy industry's 5% growth during 2016 was fueled by the increasing popularity of collectible items, including action figure statuettes, figurines and trading cards. Typically made from plastic, resins or ceramics, figurines and statuettes based on pop culture are often produced in limited editions, making them highly sought after by collectors. Newly or soon-to-be released video games, movies or television series are frequently promoted by licensing the rights to manufacture and distribute toys and other likenesses based on the fictional starring characters.
Among the first companies to use Augmented Reality advertising to stimulate sales of their collectibles is Hong Kong-based Hot Toys, who specialize in manufacturing 1/6th scale limited edition figures of action heroes such as Captain America, Batman, The Avengers and others. Using Hot Toy's 3D Augmented Reality application available for free from the App Store and Google's Play Store, collectors point their digital device at a Hot Toy action figure, which brings it to life. The first Hot Toy interactive app released was based on superhero character Thor from the hit film Avengers: Age of Ultron. California-based Sideshow Collectibles is the exclusive Hot Toy figures distributers throughout Europe, the Americas, Australia and portions of Asia.
More recently, Lucasfilms and Disney used a digital form of collectible to promote the then-pending release of Star Wars: The Last Jedi through a 3 day worldwide campaign. called "Find the Force". After downloading the Star Wars app, fans "collected" AR-enhanced characters from the film by visiting participating stores or the Star Wars website. By scanning the Find the Force graphic, collectors unlocked and downloaded unique Star Wars character experiences, which changed each day during the brief promotion. Participants received digital awards based upon the total number of characters collected during the digital marketing campaign.
The Dutch Lady, a leading Vietnam dairy, uses collectible AR toys to promote brand awareness, encourage customer interaction and increase sales. Initially, customers scanned the milk's packaging with a digital device and were transported to the virtual farm of Dutch boy Matt Truitman and his cow Bella. Following the popularity of the on-package scan promotion, The Dutch Lady dairy began including small collectible Flying Farm Toys with the purchase of their products. After downloading the Flying Farm app, scanning the toys make farm boy Matt and Bella the cow come alive and interact with the physical objects. During the campaign's launch, the app was downloaded more than 40,000 times, and the business enjoyed a 19% increase in sales.
PPI Worldwide, a designer and producer of novelty promotions and collectible toys is another company that recognizes the benefits of using Augmented Reality to market products. PPI, whose clients include Coca-Cola, Frito Lay, Tesco and other international brands, is utilizing digital developer WakingApp's ENTiTi software to add AR content to their toys and promotions. Headquartered in Israel, WakingApp's cloud-based ENTiTi simplifies creating and adding interactive AR and VR content to physical products, and is currently available without charge for both iOS and Android devices.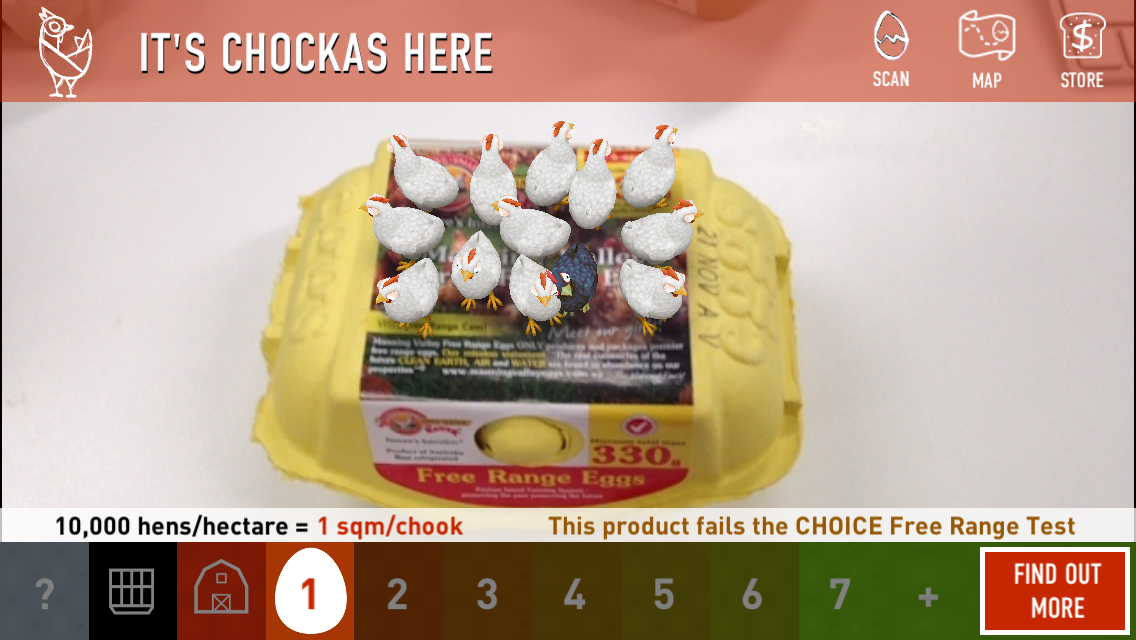 Sunny Queen Farms of Australia used a series of collectible Augmented Reality cards to promote sales of their free range eggs. The limited edition cards feature a picture of an open egg carton with eggs that come alive with kid-friendly images when viewed through a digital device. The promotion had its roots in a similar Sunny Queen Farms campaign 45 years ago that used a series of 2D stickers to promote its products. According to Sunny Queen, collectors continue to hold on to their original sticker collections, which feature the same characters as used in the AR collectible card promotion.
Other potential benefits of using Augmented Reality for marketing collectibles include:

Provide a preview of new or soon to be released items to see how they will look when added to the collector's shelf or diorama

Eliminate the inconvenience of transporting a large number of samples to and from trade shows by using Augmented Reality to demonstrate and promote collectible products

Avoid the expense of printed catalogues by replacing them with AR enhanced fliers or brochures
As with other industry sectors, look for Augmented Reality to be used more and more frequently to market collectible items.
FEATURED IMAGE: HOT TOYS, ITUNES